Teenage Wasteland: Elgin James Gives Us Teen Angst for Debut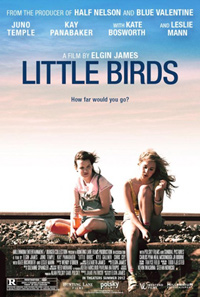 A Sundance Lab creation, Elgin James' debut, Little Birds is a strong first effort, one borne primarily from an interesting mutation of the professed director's own life experiences, which he was at first going to film. Somehow, gangland activities turned into a coming of age tale of two adolescent females, and the result, while not entirely breaking new ground, manages to reach an affecting grace, one that manages to gear up into a tense boil.
Best friends Lily (Juno Temple) and Alison (Kay Panabaker), are continuously on the lookout for more exciting activities in their ramshackle Salton Sea town, where decaying plant matter permeates the air, and local denizens are either comfortable in their boredom or violent in their wish to escape from it. Of the two, Lily is definitely the more rebellious and defiant, obviously eager to discover boys, and already having discovered the hidden pleasure of illegally smoking cigarettes. While both girls have lost a parent (Alison's mother died of cancer, and Lily's father killed himself), it's Lily's remaining family that yawns a hellish portrait of the future. Her loving but seemingly unstructured mother (Leslie Mann) isn't sure how to address Lily's depression or fascination with cutting, pawning her off on a therapist so that her daughter can at least talk about her issues with someone. Her aunt Bonnie (Kate Bosworth) is locked into an even more hellish existence, caring for a small baby, and a war hero husband that's now in a complete vegetative state.
Running into a group of rough and tumble skater boys who've traveled from Los Angeles to visit an abandoned pool in the Salton Sea in order to break shit and drink beer, Lily is instantly smitten with Jesse (Kyle Gallner). As the boys take their leave, inviting Lily to call him if she's ever in their neck of the woods, she decides that she just has to run off to Los Angeles, convincing the wiser Alison to steal her employer's neglected truck and run away together. At first reluctant, Alison sees that her friend has become desperate to get away from their small town. Meeting up with the boys they met, who are squatting in an abandoned motel, Alison and Lily quickly become wrapped up in their reckless schemes. As Alison tries to drag Lily away, they realize they may have reached a turning point in their friendship.
At its core, Little Birds is about two friends, two young things bursting to experience and be engaged in the world at large, and the rude awakening that often meets that adolescent energy and hungry need for excitement. But, as one character in the film bluntly sums up for us upon relating an experience in Bora Bora, "You don't have to go to the other end of the world to discover that people are stupid and cruel." But for the uninitiated, this proselytizing is always mucky lip service, and babes in the wood have to find this out for themselves. Cinematographer Reed Morano (Frozen River, 2008) manages to catch a dry, glacial beauty of the Salton Sea surroundings, and there's a discernible distance from strongly detailing living conditions, though we get the sense that the human denizens inhabit what looks like a sprawled trailer house park. The usually underrated Leslie Mann adds some color as Lily's concerned momma, but it just seems a little unrealistic that a woman as beautiful as this would be selling trinkets out of a Scooby Doo van on the side of the road in some godforsaken backwater community. Same goes for Kate Bosworth, trying to look agitated, smoke cigarettes, and drink during the daytime in public. True, she's been trying her hand at serious indie work recently, popping up in underrated miserabilism like Sam Levinson's Another Happy Day, 2011, or Katie Aselton's as yet unreleased Black Rock, but the truth of the matter is, women like these should be roses who've just lost their bloom. These women, all stressed out and harried, look like really good stressed out and harried women. If that's as bleak as Lily's future is going to get, looks wise, hey, it could be worse. When Lily maliciously tells her mother she looks old as she gets ready to go on a date, the comment is blunted when we get a close up on Mann's impeccable face. Clearly, she doesn't.
The first half of Little Birds is a standard coming of age centered on a hellion and a good girl. It's the second half that manages to build a mild tension, as the girls unwisely trek off to Los Angeles and take up with a group of squatting skateboarders, who think nothing of bashing people over the head, and eventually, luring people they deem to be perverts to their nasty little hovel so they can beat them and steal their money. Mixed in this is Kyle Gallner, an up and coming indie staple, curiously the go-to for angsty goth or hipster caricatures. He does the trick again here, and there's a sinister foreboding once the girls are all alone with the boys. The effervescent Juno Temple, no stranger to playing young beauties making dumb decisions, is equally fierce here, though, depending on your tastes, you might like her in some similar performances in other fare, like 2010's Dirty Girl.
While James' film feels like a strong, heartfelt debut, one can't escape the sense that there's nothing particularly fresh about it. Kids operating without conscience tend to be terrifying, as Larry Clarke's shown us a few times, but the stakes are never really set high enough for Alison and Lily, both where they're coming from and the predicament they face. Sure, they share a life changing experience, but these little birds don't fly far enough to reach the point of no return. Audience members more hip to the coming of age narrative already know the world's an unfair, often wicked place, and certainly not kind to innocent, little things. Those who can't love themselves and seek validation in the eyes of others set themselves up only for damage and destruction. Little Birds is simply a tale about two young ladies discovering that, and, luckily, before it's too late. Elgin James has shown himself to be an enigmatic storyteller, and it will be exciting to see where he goes next.