A Child is Waiting: Delpy's Return to RomCom a Mixed Bag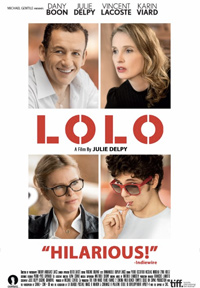 Julie Delpy has managed to balance a terrific (and prolific) career as an actress and director, breaking out over the past decade as a pragmatic purveyor of romantic entanglements thanks to her twin titles 2 Days in Paris (2007) and 2 Days in New York (2012). Although The Countess (2008), her curious English language examination of the bloodthirsty historical figure Countess Bathory was unfortunately belabored, her tendency to portray complex romantic scenarios masquerading as fluff has proven to be her overarching strength. Which is exactly why her latest, Lolo, a sometimes pleasant endeavor, feels like more of a crass disappointment than it really is. Examining an overworked single mother's attempt to rediscover romance despite the secret sabotage of her spoiled adult child, the narrative's dependence on familiar tropes, not to mention the neglect of its central romance, bears remarkable similarity to a variety of American items cut from the same cloth.
Violette (Delpy) is an unlucky-in-love sophisticated professional who has been unable to have a meaningful relationship with a man other than her son Lolo (Vincent Lacoste) for well over a decade. On holiday with friends (Karin Viard) in Biarritz, Violette meets blue collar bumpkin Jene-Rene (Dany Boon) and an unlikely romance is born. But when Violette's son unexpectedly shows up in the middle of their courting period, Jene-Rene's stronghold is immediately compromised, while his mother hasn't a clue as to her son's manipulative hand in the demise of her relationship.
In many ways, the antagonizing and manipulative Lolo is carbon copy of Jonah Hill in the Duplas Bros.' Cyrus (2010), in which an equally aggravating young man is desperate to deny his mother, Marisa Tomei, the romantic energies offered by a schlubby John C. Reilly. The relationship between Delpy and Dany Boon seems equally improbable here, especially since no time is spent developing any chemistry between the two. Instead, their attraction is explained via bestie Karin Viard's adage, "boneheads bone best," an honest perspective on the situation which soon gets lost in the clichéd structure once we leave Delpy's blunt gal pals behind (Viard pops up now and then, a proud harridan similar in nature to her recent stint in 21 Days with Pattie).
Delpy is particularly shrewish here, flying into a ridiculous AIDs shaming crisis when her lover exhibits rashes all over his body. As the title character, Vincent Lacoste is never allowed to be more than a selfish imp, donning a similarly spoiled persona to his medical resident in Hippocrates (2014), or the overbearing scorn of his hired driver in the more satirical Saint Amour (2016).
Lolo isn't without out its more accomplished flourishes (mother and son watching, of all things, the 1960 evil children horror film, Village of the Damned being one of them), but all the principals are playing approximations of characters they've attempted elsewhere, usually to better effect (arguably true for the particularly limited range of Dany Boon, as well). Technically sufficient, the film was surprisingly lensed by Thierry Arbogast, a cinematographer known for his action and genre titles thanks to his long running collaboration with Luc Besson.
★★½/☆☆☆☆☆