Walking on Broken Glass: Shyamalan Completes Superhero Trilogy with Chatty, Diagnostic Denouement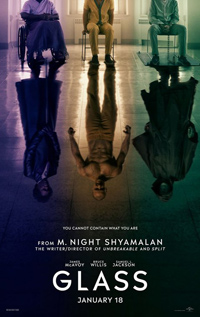 For a film nineteen years in the making, M. Night Shyamalan's highly anticipated Glass, meant as final part in a trilogy which began with 2000's Unbreakable and revived with the box-office success of 2016's Split, feels considerably less than the sum of its parts. Shyamalan's initial installment was on the heels of his massive 1999 success, The Sixth Sense, and reunited him with star Bruce Willis in a film prophesizing the considerable comic book obsession which would soon be ingrained within the Hollywood zeitgeist. Unfortunately, Shyamalan, who once felt ahead of his time with this predictive stab at super hero obsession, now seems somewhat anachronistic with his loquacious finale, an interesting but flawed deconstruction of the considerable mythos from which comic books and villains are born (or plucked) from the conditioned banality of normalcy. But try as he might, the pieces don't coalesce and like countless Shyamalan features, compelling ideas are besmirched by cloying passages of dialogue and a screenplay which deserves to be as smart as its story promises.
Glass picks up haphazardly where all its jockeying storylines left off. Nineteen years ago, David Dunn (Willis) broke out of his blue collar crisis to become a contemporary superhero, one whose identity goes through various mutations in the press, now more or less known as "The Overseer," assisted remotely by his adult son Joseph (Spencer Treat Clark), while his wife (the Robin Wright character) succumbed to cancer since the last time we saw them. Meanwhile, the nefarious Mr. Glass aka Elijah Price (Samuel L. Jackson) has been kept heavily sedated in a remote psychiatric facility on the outskirts of Philadelphia, with only his mother (a returning Charlayne Woodard, marinated in geriatric regalia) as a visitor.
Unfortunately, Kevin Wendell Crumb (James McAvoy), the DID suffering villain who was last seen allowing Anya Taylor-Joy's Casey Cooke to escape his clutches after they bonded over their pasts as abused children, is back at it, courting the attention of David Dunn. During their face-off, in which a trio of cheerleaders are rescued, both super humans are captured by Dr. Ellie Staple (Sarah Paulson), carting them off to the sanitarium where Dr. Glass is housed. Specializing in patients who suffer from a delirium which allows them to believe they're superheroes, Dr. Staple begins to whittle away at their capabilities, casting doubt where none has been allowed before. But Dr. Glass uses the reunion of his foes as the opportunity to escape his medically induced stupor and disprove her theory.
Overly long swaths of dialogue between Paulson's Dr. Staple (whose surname, like Glass, has specific motif associations) tend to paralyze whatever good will we have towards the slowly gestating narrative of Glass. And it's here where Shyamalan gets caught up on himself. The claustrophobic subterranean zoo within which most of Split took place was fitting for the narrative (which was also enhanced by the empathetic energy of Betty Buckley, one of the few performers who have been able to circumnavigate Shyamalan's oft-mawkish prose in his filmography).
Glass' narrative is insistently in need of something on a grander scale (and not just the falsely promised showdown at an oft-alluded celebratory event), yet fails to deliver as it juggles a series of characters (Jackson is mostly comatose until over an hour into the film), becoming more ludicrous when it could have made better use of his signature emotionally resonant elements by focusing on the increased intimacy of his three main players and each of the champions they have in their corners. Paulson's dialogue is especially risible and unfortunately recalls any number of similar sequences one could be pluck from any random episode of "American Horror Story," wherein the art of exposition has been apparently deemed an extinct artifice. Snatches of throwaway bits about multivitamins are the same flotsam and jetsam which characterized similar elements in past Shyamalan films, like those hotdogs and tiramisu in The Happening (2008) or the toast with the jelly-side down bit in his 2010 script for Devil.
Willis, who seems more in line with the white male vigilantism defining his turn in Eli Roth's Death Wish remake than the original Unbreakable, ends up being the least remarkable of the trio, his stoicism overshadowed by the flamboyance of Jackson and the entertaining yet perilously over-the-top McAvoy, whose take on dissociative identity disorder hearkens from the era of Flora Rheta Schreiber. And despite its inability to allow either its cast or its narrative to succeed, the ideas and messages behind Glass at least generate some food for thought in its long-in-tooth finale, which allows for a psychological slant on human capability and how we are our own worst enemies when we fail to believe in our own innate abilities.
★★/☆☆☆☆☆