Help Me, I'm Poor: Makridis Adds a Footnote to the Greek Cinema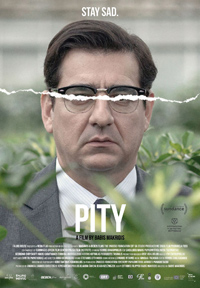 Look no further than Babis Makridis' sophomore feature, the bluntly named Pity, for evidence of the villain who plays the victim so well. Like the converse of the guilty professional vs. wronged client scenario of fellow Greek Weird Wave alum Yorgos Lanthimos' The Killing of a Sacred Deer, Makidris crafts a familiar black comedy with the cruel austerity of which has marked every single one of the treatments penned by scribe Efthymis Filippou. In essence, this is more of the same mix of idiosyncratic banality which once seemed novel about a decade prior, when exercises like Dogtooth and ALPS seemed to reorganize the remnants of certain art-house auteurs from the 1970s (such as Arturo Ripstein) and regurgitate such energies with persuasively perverted mirth on the complexities of contemporary cultures (and their archaic values). But the welcoming warping which once marked the original clutch of art-house articles out of Greece seems to wane in this latest offering from Makridis, which stumbles on its own formula of miserable sociopaths whose lives are derailed by the promise of a new rhythm, only to drift off into the sort of dark violence which, once tragic, is now expected.
The Lawyer (Yannis Drakopoulos) is a perfectly groomed specimen of his profession. As his wife (Evi Saoulidou) lies in a coma and he's forced to care for his teenage son on his own as he continues to deal with some grueling and grisly court cases, the community around the lawyer rallies to prove their emotional support due to his circumstances. A kindly neighbor (Georgina Chryskioti) delivers daily orange Bundt cakes. The dry cleaner (Makis Papadimitriou) goes to great lengths to deliver the Lawyer's suits ahead of schedule, and his secretary (Evdoxia Androulidaki) also takes pains to share her condolences. Fulfilled by their generosity and attention, the Lawyer begins to fixate on a new client whose father was viciously murdered. In the midst of all this, his wife mysteriously wakes from the coma. However, the Lawyer isn't ready to let go of receiving the constant goodwill from those who know him. When they're no longer willing to share the fruits of their pity, the Lawyer goes to extreme lengths to construct his own tragic circumstances.
Makridis' first film, L (2012), which was also scripted by Filippou, was not treated to the same fanfare as Lanthimos or other contemporaries, such as Alexandros Avranas' Miss Violence (2013). An absurdist mishmash of metaphors which plays like the vehicular version of The Brown Bunny as far as sequences involving extensive travel, L may be more confounding than Pity, but Makridis proves to be entrenched in the same mire which has succinctly defined all the narratives penned by Filippou (to the extent where the screenwriter's influence clearly permeates the mise-en-scene).
As the Lawyer, Drakopoulos reads like an inscrutable cousin to someone like Joe Mantegna, a disconnected sociopath who seems to be another example of the alienated elitist who's become unmoored in his cultural abyss of disillusionment. Successfully employed with access to every conceivable delight or pleasure, it is the desire to be treated with kindness, even pampered, by his fellow propinquitous humans without having to reciprocate the same emotions which stirs him. Pity is supposed to be an empathetic gift. But if giving is better than receiving, than the Lawyer has positioned himself on a slippery slope of diminishing returns—and worse, Makridis and Filippou's preferred format is unable to move beyond its icy, clinical procedure which would allow for some sort of emotional undercurrent and the subsequent manipulation necessary for us to care.
Reviewed on January 19th at the 2018 Sundance Film Festival – World Cinema Dramatic Competition. 97 Mins.
★★½/☆☆☆☆☆