Reviews
Mammal | 2016 Sundance Film Festival Review
The Many Things You Gave Me: Daly's Icy, Perverse Sophomore Film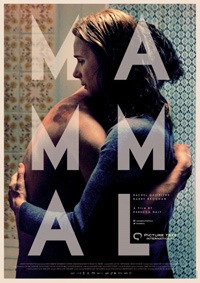 Unfit or disinterested mothers still seem to be taboo subjects, at least to center an entire narrative around. Often unhappy or unfulfilled creatures, they're portrayed as the source of great pain or anguish to their nuclear familial units, their absence or failure used as explanation for the troubled lives of children. Irish director Rebecca Daly reunites with her co-writer Glenn Montgomery for her bleak sophomore effort Mammal and gives us an uncustomary narrative told entirely from the perspective of such a woman. Abrasive and unflinching, it's a moderately perverse portrait of a woman jostled out of her stupor at a compelling crossroads after learning the son she abandoned eighteen years ago suddenly died. Featuring a stellar lead performance from Australian actress Rachel Griffiths, it's a compelling character study of an intriguing misfit made all the more palpable thanks to a rising sense of anxiety and uncontrollable compulsion rooted in alarming tendency.
Margaret (Griffiths) quietly runs a consignment shop in Dublin, barely interacting with an assistant mostly off-screen, her only joy apparently revolving around frequent trips to the public pool at a local rec center. She also politely avoids socialization there, preferring to reside underwater, holding her breath. Suddenly, her ex-husband Matt (Michael McElhatton) arrives, announcing their son has disappeared. He shows her a picture of a teenage boy she's never seen. Not long afterwards, Margaret discovers a young man (Barry Keoghan) collapsed outside her apartment. She cleans his wounds and he disappears into the night, but reappears one day at the pool. Inquiring about his injuries, she discovers he's run away from home, and she offers him a spare room at her flat, recently vacated by a lodger (a subplot involving her next door neighbor). The young man is Joe, and we assume Margaret is reminded of the son she never mothered, but soon their relationship develops in uncustomary ways. Their bond deepens after her son's corpse is eventually located in a river, leaving Matt to come around hoping to bury his conflict and grief in a reconnection with Margaret.
As Margaret, Griffith gives a sublime, internalized performance in the type of dialed down vehicle where more is revealed about these characters and their feelings during non-verbal exchanges. As the title indicates, notions of what is 'natural' and expected from social roles or responsibilities factors greatly into Margaret's composition. Daly and Montgomery weave a knowing portrait of a kind, painstaking person, a social misfit who has constructed a safe space for others unable to commit to expectations (highlighted by the absent lodger who has run away from a wife and child next door). Close-ups on her C-section scar and meaningful exchanges about the stray cats proliferating in the alley ("It's all they know") confirm her as a woman rejecting the status quo, though the consequences have left her grimly alone. She revels in controlling what she can, though she doesn't seem to know it, as indicated by her attraction to holding her breath underwater, and the dangerous black-out game she plays with Joe.
As her young co-star, Barry Keoghan ('71, 2014) is as intense as Griffiths is nearly emotionally paralyzed, and their on-screen chemistry causes a great degree of distress and discomfort. At times, it's clear what kind of creature comfort both are seeking, until we realize these are people who have relegated themselves to a fringe where their infrequent connections force their emotional crutches to don too many roles. Providing nuanced support is character actor McElhatton, whose own complicated emotions about Margaret infects his ability to see or think clearly.
Mammal is one of those emotionally heavy and unavoidably draining exercises where audience engagement means investing in characters either difficult to understand or even like. Griffiths' performance as Margaret ranks as one of the actor's best in a resume filled with rebellious misfits and sexually unhinged characters. DP Lennart Verstegen paints a portrait of a drowned out, unremarkable dead zone in Dublin, which enhances Margaret's acquatic paradise in the vibrant blue of the public pool.
Reviewed on January 24th at the 2016 Sundance Film Festival – World Dramatic Competition Programme. 99 Min.
★★★½/☆☆☆☆☆