Yalda, a Night for Forgiveness | Review
Killer Ratings: Bakhshi Brings Reality Television Gimmickry to Morbid, Potential Levels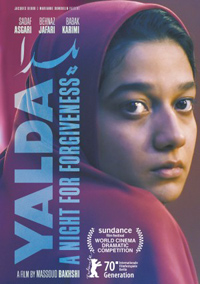 To err is human, to forgive divine—or so we've come to accept as a given. But the privilege and erstwhile sanctimonious hue of forgiveness (not to mention an added dollop of political intention, economic incentive and trenchant gender roles) is examined at fever pitch in Iranian director Massoud Bakhshi's sophomore production Yalda, a Night for Forgiveness, a co-production with France, Germany, Switzerland and Luxembourg which took home the Grand Jury Prize in Sundance's 2020 World Dramatic Competition. Reality television makes for cerebral gladiatorial sport in this troubling, entirely feasible conception, and promises to elevate the profile of Bakhshi, whose well-received 2012 debut, A Respectable Family, premiered in Directors' Fortnight at Cannes.
Maryam (Sadaf Asgari) has been sentenced to death for murdering her much older husband, Nasser. However, her sole opportunity for redemption has come in the form of a reality television program allowing Maryam to present her plea for forgiveness to Mona (Behnaz Jafari), her deceased husband's daughter, who was once a mentor for the young woman. Quickly we learn Maryam's marriage to Nasser, previously her employer, was a temporary arrangement, as is customary in Iran. Their union was also contingent upon Maryam not having any children, which was exacerbated by a secret pregnancy. Add to this, Maryam had the opportunity to seek help for Nasser during the tragedy which claimed his life, and her negligence in doing so caused his death. His only daughter Mona, meanwhile, can listen to Maryam's plight and choose to forgive her. The upside for Mona is she'll receive a considerable amount of blood money in exchange for her forgiveness. And let's not forget the audience, furiously casting their votes for either death or mercy, all pressuring Mona to make a decision as the nation watches during the traditional celebration of Yalda.
The morbid possibilities of reality television have been mined and imagined long before we arrived at our current state whereby the possibilities of Yalda no longer feel as outlandish as they should, whether in Iran, the United States or any other country. Bertrand Tavernier depicted a future where, with mankind no longer prone to mental illness, a woman played by Romy Schneider dying of cancer is secretly recorded by Harvey Keitel for a television show. More risible was Tommy Lee Wallace's 1994 television film (set in 1999) in which Sean Young attempts to stop a death row inmate's execution from being publicly televised for mass consumption. Bakhshi concocts something a bit more in vogue with Yalda, which seems an utterly plausible television concept as devised by the likes of Asghar Farhadi's tempestuous, culturally specific anxieties pitting gender roles and class values against one another until his characters are beat up, emerging emotionally spent or broken.
Set on the night of the eponymous Iranian festival, which is defined as the 'longest and darkest' night of the year (a detail which assists in exaggerating an already overwrought narrative) the fate in balance at the heart of the film isn't unlike the night of truth and judgment outlined in Ariel Dorfman's play Death and the Maiden, adapted by Roman Polanski in 1994.
The securely contained and increasingly claustrophobic Yalda feels as if it could have been a play, a tragicomedy which turns into full blown soap opera during a major revelation when some considerable secrets revealed (and makes one wonder what Tennessee Williams would have cooked up had he prophesized the niggling nexus of reality television and entertainment value's mutation of humanity).

Relative newcomer Sadaf Asgari presents Maryam as a rather shrill victim of circumstance, a young woman whose rigorous, uncontrollable emotional outbursts threaten to ruin her chances of redemption but seem to make for compellingly robust television ratings. She's juxtaposed with the severely cold and uncompromising Mona (an excellent Behnaz Jafari, recently seen in Jafar Panahi's 3 Faces, 2018), and it's through her characterization which Bakhshi interweaves some excellent nuggets of exposition—she has no desire to forgive and pardon Maryam, but doing so allows her to receive a considerable amount of 'blood money,' enough to leave the country and start anew. Her selfishness, however, is out of bounds, and we witness some boldfaced class distinctions in how she reacts to a minor traffic scuffle.
Timely, terrifying and simultaneously overstrung, Yalda, a Night of Forgiveness is an excellent showcase for the limited instances of potential female agency, though Mona's choices are arguably limited by the demands of the audience's opinion of her decision. Forgiveness, like revenge, is a double-edged sword, but Bakhshi positions his finale in a way to allow for certain silver linings. In the words of the imitable Mark Twain, "Forgiveness is the fragrance the violet sheds on the heel that has crushed it," a thought bolstering the repeated urges to Mona of how 'beautiful forgiveness is' as the television program wears on—she's not here for the celebration of beauty or the rosy energy of altruism. But here, forgiveness is a noxious dangling carrot, as warped and socially tainted as the opposite precipice Maryam faces—and it's this startling intersection which makes Yalda a great conversation piece.
Reviewed on February 23rd at the 2020 Berlin International Film Festival –Generation 14plus Sidebar– 89 Mins.
★★★/☆☆☆☆☆