Wander Darkly [Video Review]
Collision Visions: Miele Taps Miller for Fractured Memory Exercise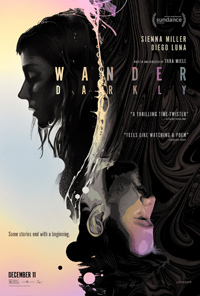 For her fourth feature, director Tara Miele draws upon a traumatic event from her own past as inspiration for Wander Darkly, a narrative which utilizes an experimentally inclined non-linear narrative. The aftershocks of a major automobile collision sends one woman reeling, convinced she's dead and residing in a cruel purgatory in which she must navigate past memories as if re-living them while simultaneously commenting on them alongside her husband, seemingly a guide on the journey who downplays her clinging to the idea she's deceased.
Giving Sienna Miller one of her finest leading opportunities in well over a decade, it's a mournful dream of Thanatos which is often more exciting to parse through after the end credits than it is as an actual viewing experience.
Having just purchased their first home as they care for their newborn child, Adrienne (Miller) and Matteo (Diego Luna) seem to be in a relationship slump. Vowing never to get married, various jealousies visit the couple and following a mediocre date night, an argument in the car assists in a head-on collision. Waking from the trauma in an out-of-body experience, Adrienne believes she is dead, but Matteo can see and hear her, dissuading her from this belief. And yet, both drift in and out of defining and banal memories from their life together, interpreting how certain moments may have led to their current state of disrepair.

Memory exploration and the resulting revisionism of them isn't exactly new, and Wander Darkly might sometimes play like the morbid, downbeat sister to something like Eternal Sunshine of the Spotless Mind (2004). But neither is Miele's offering as dark as Alain Resnais' 1968 classic Je t'aime, Je t'aime, preferring to play with expectations of genre, utilizing a twist not unlike Vadim Perelman's The Life Before Her Eyes (2007). And it's perhaps because of this tonal tinkering we never really get as emotionally overwrought about Adrienne (and a surprising twist) as we should. True, Miller glides through a gamut of emotional resonances and even conjures poignancy in a handful of sequences—but curiously, we never really feel attuned to her, as if she's more of an idea of a person. And maybe we needed to spend a little more time with Matteo and Adrienne, experience some ups and downs or at least cement the level of low-grade tension defining their day-to-day reality.
The fractured qualities also rob any of the peripheral characters of nuance. And while we may not really need to invest energies in the potential lovers of either spouse (Tory Kittles, Aimee Carrero), this rather hobbles all the character work laid out for Beth Grant as Adrienne's mother, or her friend Maggie, portrayed by Vanessa Bayer. Ultimately, it becomes something hokey, as in the supernatural tendencies revealed as a catalyzing character played by James Landry Hebert.
Lensed by Carlina Costa (Crystal Swan, 2018), it's the editing from Tamara Meem (The Sound of My Voice, 2011) and Alex O'Flinn (The Rider; The Girl Who Walks Home Alone at Night) which really allows Wander Darkly a peculiar ambience, enough to suggest its energies align with memory play along the lines of something like Michael Almereyda's stellar Marjorie Prime (2017). Ultimately, it's an interesting exercise from Tara Miele, and a high point for fans of Miller as the actor's performance returns her to the promise displayed in films like Steve Buscemi's 2007 Interview.
★★★/☆☆☆☆☆