Downward Slopes: Morano's Debut of Downtrodden Beats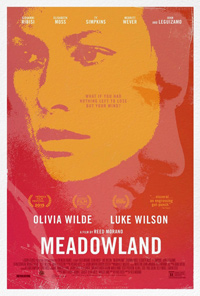 Cinematographer Reed Morano (The Skeleton Twins; Kill Your Darlings) makes her directorial debut with Meadowland, an increasingly cheerless portrait of parents in the traumatic aftermath following the disappearance of their only child. Constructing a complex psychological portrait of lives thrust into ceaseless turmoil, Morano serves as her own DoP in this visually striking odyssey focusing on familiar subjects in unpredictable ways. Mercilessly contained within the limited perspectives of its main characters, it's an uncomfortable examination that manages to be surprisingly repellant without sacrificing sympathy for its complicated lead character. Filled with notable actors in supporting roles, some of them arguably wasted here (though, conversely, no one manages to distract), Morano manages a significantly downbeat and uncompromising debut.
School teacher Sarah (Olivia Wilde) and police officer Phil (Luke Wilson) are on a road trip with their son. But when he is abducted from a restroom at a gas station, their existence is upended. A year passes, and while their son has yet to be located, new evidence suggests police may have found the suspect. But rather than promise closure, this causes the dissolution of an already incredibly tenuous and superficial existence for the couple. While Phil manages to find solace in regular group therapy, Sarah enters a period of extreme denial, finding herself fascinated with students at school who are emotionally unstable or socially isolated. The arrival of Phil's troubled brother (Giovanni Ribisi), who is need of a place to crash while he reboots, further exacerbates the scenario.
We've seen countless numbers of genre films and searing domestic dramas fascinated with the unspeakable terror of missing children, and usually these tend to follow similar trajectories of resolution, whether that's something like Prisoners (2013) or Ransom (1996) or Bunny Lake is Missing (1965). First time screenwriter Chris Rossi begins on familiar fround as the nightmarish gas station scenario recalls the eeriness of Sluizer's The Vanishing (1988). But as the film progresses, Morano eschews the familiar milieu of these scenarios, beginning the film with the abduction and then skipping ahead a year in time to find Sarah and Phil barely holding it together. The spectre of law enforcement figures on the barest periphery of Meadowland, and a possible lead only seems to completely unmoor Sarah, who wishes to avoid hearing confirmation of her son's demise.
Also serving as producer on the film, Wilde gives a career best performance, unravelling believably and aimlessly as the film progresses. We're used to seeing Wilde portray plasterboard non-entities, though recent turns in Joe Swanberg's Drinking Buddies (2013), and a notable supporting moment in Spike Jonze's Her (2013) find an actress struggling to be involved with material worthy of her talents. The glossy veneer is finally worn thin with her Sarah, an aggravating black hole increasing in size and desperation in ways surprisingly moving in a film that could easily be dismissed as miserabilism. As her counterpart, Luke Wilson gets the less satisfying agenda, a beat cop who also begins to come undone, though his resources in a support group help curb his appetite for vengeance.
Morano tends to frame Wilde in severe extremes, so much so it's as if we're uncomfortably close to a wild animal. Many films depicting child abduction tend to focus on mothers and their questionable sanity thereafter, and a fine tradition of European flavored films have provided great actresses with such material (like Faye Dunaway in Rene Clement's The Deadly Trap, 1971). But using cinematography to channel an increasingly erratic state of mind, Morano's psychological portraiture recalls classic works by Nicolas Roeg, who was also DoP before helming his own body of work.
An incredible host of supporting players trample about here, some with their own significant minor scenes, like Giovanni Ribisi, Elizabeth Moss, and Kevin Corrigan, while many more provide a textured background, with Juno Temple, Kid Cudi, Yolonda Ross, and John Leguizamo also turning in brief appearances. Though it may irritate some, Morano ends her film on a fantastical bit of poetry, a play on facing the 'elephant in the room' idiom, extended to the whole universe for Wilde's Sarah, which has evolved into a consuming, toxic trap.
★★★/☆☆☆☆☆