Reviews
Jane B. par Agnes V. | Varda Retrospective Review
She's Not There: Varda's Lovely, Refracted Portrait of Iconic Birkin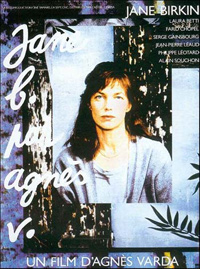 The other obscure Agnes Varda title treated to a digital restoration courtesy of Cinelicious Pics is Janes B. par Agnes V., a playful exploration of the multi-faceted actress, singer, and icon Jane Birkin as she balances career choices and motherhood long after the initial scandals that brought her international attention. Filmed in tandem with their other collaboration, the fictional narrative Kung Fu Master!, both titles were released theatrically in 1988 when presumably one grew out of the other, though it's difficult to tell which origination came first. Proclaimed to be an imaginary bio-pic by Varda, we glimpse candid interview footage strewn throughout a mixture of playful moments and pretend reenactments. Footage from their other film is included, only here it's being presented as an idea the actor and director are just fleshing out, not something already completed. Though they're stand-alone projects, both titles are also thrillingly symbiotic, sometimes unexpectedly so.
Birkin's notable relocation to the more enlightened attitudes of France is explained more or less as due to her demeaning portrayal in the media for daring to go topless in a sequence from Antonioni's Blow Up (1966). Dumping the jumbled mess of items from her purse as she sits atop a stone stairway, Birkin laughs. "When you show it all, you reveal very little," she concludes. And so it's true, for we begin to learn as Varda ruefully plays with expectations, one can't claim we get to know very much about Birkin at all, other than basic facts one already knows from the tabloids (but intimate details about famed relationships to composer John Barry, singer Serge Gainsbourg, and director Jacques Doillon remain discreetly out of bounds, though the last two make appearances in the flesh).
At most, it's interesting to see Birkin just 'playing' herself, as it's a breathy persona of enunciation and magical cheeriness that daughter Charlotte Gainsbourg reconstituted for herself in a more melancholy vein. As the actress discusses different directors' techniques, Varda abandons a straightforward approach and takes a direct departure into her passion for reflected images (and sticking mirrors in the middle of nature), daring Birkin to look into the camera lens, something the actress isn't comfortable with, even for photographs. "It could be a trap."
The same statement can apply to the complicated deconstruction of these two films. To unravel the where and when of Kung Fu Master! is probably about as meaningful as arguing the egg or the chicken, but worth deliberating since Agnes and Birkin seem to be playing with notions of multiple truths. Varda prepares written sequences for Birkin to perform, opposite acknowledged actors Philippe Leotard and Jean-Pierre Leaud (who Birkin states she prefers outside of his work in classic French New Wave films because he since acquired a displaced quality she prefers).
Actor and director seem intent on satisfying each other's whims, and a late staged sequence finds Varda filming Birkin as she plays Joan of Arc, a role she wishes she could realistically portray but cannot due to her accent and British heritage. "You could be dubbed," Varda happily suggests. Instead, they stage a dramatic, fiery scourge for Birkin/Joan, whose screams of anguish give way to the bookend sequence of the actress dressed up as a poverty stricken maid in a painting they've also chosen to visually portray. Sadly, Birkin relates her feelings on the eve of her 40th birthday, proclaiming those anniversaries ending in the 0 are the hardest.
Candid and eloquent, tears are brushed aside as she's showered with flowers, gifts, and birthday wishes, wrapping what stands as a beautiful and unique homage to a woman whose lasting legacy is so much more plentiful than the prominent high end bag French manufacturer Hermes named for her. As directed by the incomparable and still undefinable Agnes Varda, it's a complex and playful portrait unspooled on a moving canvas.
★★★★/☆☆☆☆☆