Greed is God: Menon Crafts Terse, Uneven Femme-Centric Wall Street Noir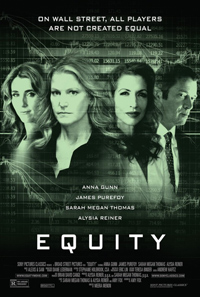 Meera Menon follows up her 2013 road-trip comedy Farah Goes Bang with a low-fi neo noir, Equity, a thriller which often seems to get lost in its marketing thrust as the "first female driven Wall Street movie." Such distinctions often lends material a false sense of heightened expectation or originality (such as something like "the first gay horror movie" yoking 2004's Hellbent), as is the case here with a narrative concerning a seasoned senior investment banker irrevocably tarnished by the type of financial scandal she's seen sink countless male counterparts.
Scripted by Amy Fox (who previously penned Heights, a 2005 indie drama about intersecting New Yorkers over a 24 hour period), an ambience of trenchant seriousness further restricts these series of sterile board room face-offs, its characters dancing through euphemisms as they fondle bourgeois appetizers and distract themselves in aperitifs, to the degree where a film featuring several compelling characters never feels like it manages to take off even when disaster eventually strikes.
For the most part, senior investment banker Naomi Bishop (Anna Gunn) is a high profile figure in her Wall Street firm. But after her reputation was recently tarnished following a bungled IPO (Initial Public Offering or stock market launch) for a Silicon Valley start-up (previously her bread and butter), Naomi requires a new big win to dispel the nagging rumors that she's washed up. Continuing to pillage the good will of her subordinate, VP Erin Manning (Sarah Megan Thomas), Naomi sets out to win a deal to take new tech darling Cachet public and manage the IPO. Except, the arrogant owner, Ed (Samuel Roukin) doesn't care for Naomi, preferring to deal with Erin. His online network promises privacy from its users, professing to be impenetrable to hackers (although certain rumors indicate otherwise). Meanwhile, Naomi's private life becomes a hot bed of anxiety since she's having an affair with Michael (James Purefoy), a broker at another division of her investment bank who arranges deals with hedge funds. Recently, an old college friend of Naomi's, Samantha Ryan (Alysia Reiner) has resurfaced, now a Justice Department investigator sniffing around Michael trying to get chummy with her as she orchestrates this new tenuous deal.
Equity falters most in its handling of its central character, in an otherwise appealing and arresting performance from "Breaking Bad" actress Anna Gunn. She's portrayed as incredibly shrewd and savvy for the most part, not completely incomparable to the iconic Michael Douglas as Gordon Gekko when she coos matter-of-factly to a room full of similarly minded women that she "likes money," and women shouldn't be ashamed to admit they want a controlling share of the pie. But then Fox's screenplay illogically undermines her as tenuously as her own Jenga obsessed boss, whose ambivalent threats concerning her ascension in rank are a constant reminder of how women have to work not just harder but smarter than men. Recently burned on a deal where she was seen as miscalculating an IPO's value, her back's already against the wall, making her ill-advised romance with Purefoy's broker difficult to believe. Instead, this plays like an interesting film noir gender role reversal, but lacking a certain narrative finesse.
Menon and Fox don't leave room for any relief in tension, and how Naomi Bishop is at ease (had we the opportunity to see her in such a state) is imperative to believing she'd make such sloppy stopgap decisions. The romance shared with Purefoy, where such energy could have been injected, instead feels like a battle for control of the bedroom. At the same time, minor melodramatic outbursts would play more effectively, such as when Gunn snaps at an intern about the amount of chocolate chips in her cookie (or basically any interaction with underling Sarah Megan Thomas), which instead comes off as belabored camp. There's no need for Menon to have swung for The Wolf of Wall Street level of impropriety, but a tighter high-wire balancing act is required for the tone suggested here.
A more compelling character here is Alysia Reiner's Justice Department investigator, charged with duping her old college pal into revealing potentially detrimental information about herself. While the film is obviously skewed from the female perspective (a gimmick which suggests the same level of manipulation and double-crossing transpires on either side of the gender divide), the handling of Samantha and her wife Melanie (Tracie Thoms in an underwhelming role) recalls other instances of cinema intent on underscoring female agency by introducing lesbian characters as the ultimate state of removal from the male realm, and therefore, the most altruistic or self-righteous (Lucky McKee's 2011 film The Woman has a similar angle).
Despite the obvious trappings of its budget, Equity manages to make some compelling statements about the world of high-stakes finance, even if this is mostly due to the fact we're already quite familiar with the latent misogyny and the backstabbing and manipulation providing the support beams for continued operations in the financial sector.
★★½/☆☆☆☆☆