Spy Hard: Cristofer Returns with Faulty Noir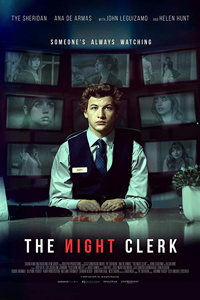 It's been nearly twenty years since Pulitzer Prize winning scribe Michael Cristofer has developed a theatrical feature, last on hand with 2001's steamy erotic thriller Original Sin, which featured Antonio Banderas and re-teamed the director with his Gia (1998) star, Angelina Jolie (not to mention the film was a remake of Francois Truffaut's Mississippi Mermaid, 1969). He's back with The Night Clerk, an original treatment which makes an unwieldy attempt at mining the grey zone of culpability with a lead protagonist who suffers from Asperger's but has all the problematic voyeuristic tendencies of a Hitchcockian hero in peril. A stellar cast can't quite generate any moments of interest in a wan thriller which ends up courting controversy for how it handles the lead's placement on the spectrum.
Bart (Tye Sheridan) works as an overnight clerk in an unassuming hotel. Shunned by his co-workers, who find his autism discomfiting, it seems Bart has disappeared into his own world by secretly taping the guests of the hotel over the past several years, reviewing the footage over and over again to practice his own behavioral modifications for interacting with people. But one night he witness a murder in real-time while at home, rushing back to the hotel but ultimately too late to assist. His actions are suspect to the lead detective (John Leguizamo) while his mother (Helen Hunt) thwarts law enforcement's inquiries about her son. Relocated to another section of the hotel, Bart meets Andrea (Ana de Armas), with whom he becomes smitten. But could Andrea somehow be involved with the murder he witnessed?
By title alone, The Night Clerk is indistinguishable with other similar titles, from John Le Carré's The Night Manager (turned into a television series by Susanne Bier in 2016) or the 2006 Robin Williams starrer The Night Listener (adapted from an Armistead Maupin novel). Tye Sheridan, try as he might as Bart, delivers an uncomfortable composite as a man with autism who learns his mannerisms by watching the secret footage he tapes of the hotel's customers, which plays a lot like a mix between Rain Man (1988) and Sliver (1993).
The presence of Ana de Armas (who is involved romantically with another frequent hotel guest) as the potential femme fatale likewise recalls the Valeria Golino/Dustin Hoffmann/Tom Cruise amalgamation of the famed Oscar winning Rain Man, as well. While Helen Hunt has little to do, and the narrative fails to tease out more interesting elements involving her character (such as her potential complicity), only John Leguizamo stands out among the noted cast members in worthwhile performance.
★½/☆☆☆☆☆