Outside the Wire [Video Review]
Android Schadenfreude: Hafstrom Soldiers to the Future with Familiar Agenda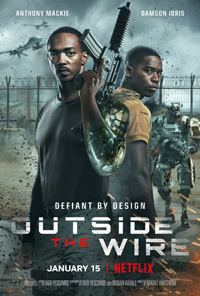 Anthony Mackie is the computer who wore combat gear in Outside the Wire, the latest offering from Swedish helmer Mikael Hafstrom, making his first return to Hollywood filmmaking since kicking off an accidental franchise with 2013's Escape Plan.
In the future envisioned by Rowan Athale and Rob Yescombe's screenplay, little has changed in the realm of American arrogance as regards peacekeeping missions which dissolve quickly into chaotic standoffs with global terrorists. But in a nod to Asimov, the biotechnological soldiers we've created know us so much better than we do ourselves, and so they've developed a complex sabotage strategy meant to highlight the necessity of not trusting artificial intelligence. What sounds like a heady sci-fi trip gets lost in the mechanics of its own narrative fluctuations, painting the lessons learned by its naïve protagonist in bright, garish hues, like a roided after-school-special war movie.
In the year 2036, Lieutenant Harp (Damson Idris) is a rogue drone pilot who disobeys a direct command and deploys a missile which kills two men, a decision he believes saved the remaining thirty-eight soldiers in the battalion of a compromised mission. As punishment, he is sent to a demilitarized zone to experience ground combat and learn his lesson about collateral damage and the resecting chain of command. After a chilly greeting from the military outpost's commanding officer (Michael Kelly), Harp is directly assigned to work with Captain Leo (Anthony Mackie), per special request. It appears Harp has displayed specific behavior which interests Leo, who is tracking nuclear codes for a doomsday device so he can keep them out of the hands of Victor Koval (Pilou Asbaeck), an infamous leader of insurgents with nefarious plans. Oh, and Leo is also, secretly a piece of 4th generation biotech – a state of the art android with an avid interest in music.
In this future Europe undergoing a civil war, one wishes Athale and Yescombe had succeeded with a stronger characterization of the actual Ukrainian denizens, a country ripe for such undercurrents considering its historical conflicts with Russia, including annexation, Crimea, etc. But Hafstrom is not Sergei Loznitsa and instead it's an Anglo-Saxon affair peppered with various Euro flavor, such as an underutilized Emily Beecham as the head of a rebel component and Denmark's Pilou Asbaeck as blue-eyed zealot who is dispatched with such ease (especially for man termed the Terror of the Balkans) it instead signifies the opposite of Captain Leo's own intentions.
Hope arrives in Hafstrom's construction of familiar types through two Black leads, Anthony Mackie and newcomer Damson Idris ("Snowfall"), a mentor relationship which sours before the narrative throws this into a schlocky overdrive which feels like a PSA on advanced artificial intelligence. Idris is not quite able to overcome the treacly naivete in which his character is written, while Mackie seems to be having a bit of fun, for once, as an android with questionable motives.
As far as Hafstrom's own studio output, Outside the Wire is a breath of fresh air in comparison to Escape Plan or The Rite (2011), and stands as his best English language offering since the Stephen King adaptation 1408 (2007), for what it is worth. By the end credits, perhaps its successful in relaying its messages about lessons learned regarding human collateral damage and how it should never be taken lightly. But the sacrifice for this is a film which does not successfully coalesce in any other way (especially as far as what 2036 looks like 'outside the wire'), and while better than several higher profile offerings concerning the use of drones (Good Kill, 2014, for instance), it is nowhere near as elegantly formatted as Gavin Hood's Eye in the Sky (2015).
★★/☆☆☆☆☆