Locked Down [Video Review]
Tell-Tale Hearts: Liman Conjures a Time Capsule in Curious Cinematic Exercise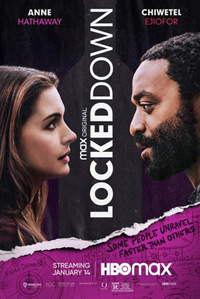 As cinematic content continues to unspool through premiering projects completed prior to the start of the COVID-19 pandemic, several productions inspired by and filmed during this pronounced period have made innovative use of these restricted parameters. While the UK Zoom horror film Host debuted several months ago, Doug Liman and screenwriter Steven Knight have attempted something a bit more ambitious with the appropriately titled Locked Down.
If the thrust is mostly a compromised long-term heterosexual relationship in steep decline, it's also a tonally fluctuating observation of human behaviors exacerbated by quarantine, a light romantic dramedy, and eventual heist movie. Not all of it works as one might hope, but as a somewhat flurried portrait of a particular period, it serves as an ambitious time capsule of widespread sentiments.
At each other's throats during lockdown in London, CEO Linda (Anne Hathaway) and furloughed delivery driver Paxton (Chiwetel Ejiofor) have opted to call it quits as they cohabitate in their swank flat and ride out the storm. But with only each other as human contact, this is easier said than done. While she's tasked with laying off employees via FaceTime, Paxton is offered the chance to resume work from his affable boss Solomon (Ben Kingsley), who is having trouble finding drivers without a criminal history to transport some expensive items. Paxton has a criminal record due to an altercation from his past, which has kept working in an occupation he is overqualified for. But he jumps at the opportunity, even if it means sporting a fake identity provided by Solomon. Eventually, Linda and Paxton discover their professional paths will converge on the transport of an expensive display at Harrods, which she must dismantle herself as it includes a 3,000 lb heiress diamond. Fantasizing about stealing the diamond generates a passionate reawakening in the couple, and they devise a plan to make good on the fantasy.

As scripted by Steven Knight, Locked Down features some of the scribe's strengths and weaknesses (though nothing nearly as off base as 2019's Serenity). The pandemic defined relationship has theatrical echoes of the childless George and Martha from Who's Afraid of Virginia Woolf? and then tends to go off the deep end in the Harrods sequences, a location which was only available for shooting due to the shutdown caused by the pandemic. Much like the surprising agility of dialogue navigated expertly by Tom Hardy in Knight's Locke (2013), Hathaway and Ejiofor, both displaying different modes and approaches to performance and characterization, are often quite compelling even when the situation stretches thin.
Ejiofor's Edgar Allan Poe alias (spelled incorrectly on his nametag) is one of the more inspired running gags (and recalls a similar pseudonym used by the Kevin Costner character in Clint Eastwood's A Perfect World, 1993). A variety of tangential characters butt in unsuccessfully, such as Ejiofor's half-brother (much is stressed about this biological reality between) Dule Hill and his wife played by Jazmyn Simon, whose pre-Christmas sexual liaison with Linda becomes a motif unto itself. Altogether, these opposing elements, including Ben Kingsley as Ejiofor's religious but realistic employer, take on the aura of Steven Soderbergh in their eventual exaggerations. Simplistic but with so many talking heads to keep track of, Locked Down feels like early digital days with experimental narratives, like Timecode (2000) from Mike Figgis. Some tension in Harrods notwithstanding, the design of the heist shares a few similarities with another such narrative featuring Hathaway, Ocean's Eight (2018).
Saar Klein (who edited Malick's The Thin Red Line, 1998) deserves credit for morphing this breakneck material into something not only cohesive but with emotional highs and lows. And compared to the big budget Tom Cruise extravaganzas (Edge of Tomorrow; American Made) directed by Liman, this is a novel tempered exercise.
A galaxy of notable cameos, from Ben Stiller and Mindy Kaling to Lucy Boynton and Stephen Merchant, all add a bit of unexpected flavor. It's hard to say what the legacy of Locked Down, and other eventual projects like it, will yield. Five years from now, who knows if adult audiences will care to revisit these strenuous times mainlining this preciseness. But Liman and Knight often drill down into some much-needed catharsis, both for Paxton and Linda and their audience—whether it's spouting D.H. Lawrence in the street or drunkenly banging pots and pans in the once-nightly homage to front line workers, Locked Down is nestled so uncomfortably in the moment, it's hard to recognize it's entertainment value instead of appreciating how it stresses bearing witness to experiences many of us are still navigating. Like Ejiofor describes Poe, Locked Down often feels like the output of a 'peddler of darkness,' and as such goes down much easier with a carafe or two of one's favored mood-altering substances.
★★★½/☆☆☆☆☆