Villain's Vassals: Coffin & Balda's Slavish Prequel Void of Thought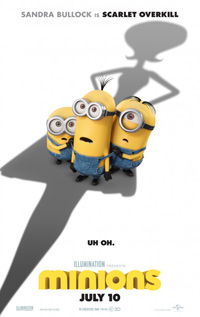 Co-directors Pierre Coffin and Kyle Balda team up for Minions, a tangential prequel to the 2010 animated hit, Despicable Me. Coffin, who co-directed the first film and its 2013 sequel with Chris Renaud (who helmed the ill-conceived adaptation of Dr. Seuss's beloved The Lorax with Balda back in 2012), deigns to explain the origin story of the little yellow creatures endlessly committing to serving the famed uber villain Gru. It's an idea rather like the relationship of the film Annabelle (2014) to The Conjuring (2013).
Writer Brian Lynch (Puss in Boots; Hop; the upcoming The Secret Life of Pets), no stranger to creating animated versions of animal characters for children's films, seems to have less capacity in the formulation of imaginary beings, at least judging from the endless one-note antics engaged in by these rudimentary shaped yellow blobs akin to cutesy antics, dressed with only one real defining characteristic—to masochistically serve some omnipotent evil master (a behavior with potentially provocative subtext considering similar behaviors in certain groups of humans, but that's not what anyone is here to talk about).
Sure to delight tots of a certain age range, the film's narrative may be zany and over-the-top, but it is also sans any kind of emotional register (including joy), reduced to a series of ridiculous, illogical instances played up like a Road Runner Vs. Coyote escapade we used to see in a short film introducing a (family) feature.
Kevin, Stuart, and Bob cycle through eons of evil masters before getting stranded with their fellow minions in an icy cave. After years of not serving any master, they become bored, and so set off on a journey bringing them to the shores of New York City in 1968. From there, they learn of an upcoming villain convention in Florida, where they head to in hopes to serve the current supreme villain.
We're introduced to the 'formation' of the minions during the credits, in a sequence lazily riffing on a primitive understanding of Darwin's theory of evolution. Cellular blobs float around in primordial flotsam and jetsam magically become little yellow shapes immediately drawn to predatory, prehistoric fish. The legion of such blobs eventually follow their master to dry land. Geoffrey Rush drolly narrates their endeavors, introducing us to their Anglo-Saxon names, Kevin, Bob, and Stuart ('voiced' by Coffin) and a series of snafus leading them to the icy cave of some abominable snowmen and the directionless turpitude leading its three main characters out of the cave and to New York City and Orlando, Florida, 1968, in their quest to serve the meanest villain around.
Through a series of inane happenings (including a family of burglars voiced by Allison Janney and Michael Keaton), we come to the film's central conflict, the devious plan of swinging 60's supervillain Violet Overkill (Sandra Bullock) and her husband Herb (Jon Hamm) to steal the crown jewels from the Queen of England (Jennifer Saunders). This seems a favorite escapade for children's features, considering it was the ultimate aim of the bad guys in last year's Muppets Most Wanted, but Minions never manages to feel very funny.
Despite some minor and unnecessary moments of period homage (the Beatles' Abbey Road album cover), Minions seems confused about tone, starting with the celebrity casting behind the human characters. Bullock manages to be tiresome as the grand villain, inexplicably drawn like the cartoon version of Zoe Kazan. Equally dull and not particularly evil is Jon Hamm as her underutilized husband. It seems a wasted Jennifer Saunders would have been more appropriate as Overkill.
Of course, the minions and their mildly differentiated personalities are generally cute, particularly the child-like Bob. Most of this is due to their particular 'language,' which sounds like some version of Esperanto. But they never really justify a necessity for a feature length film, long out staying their welcome, thanks in part to the abject silliness of a narrative paling in considerable comparison to another children's flick currently in theaters, Inside Out. Instead, Minions feels like what a film dedicated to the Ewoks of the Star Wars franchise would look like, cute only in small doses.
★★/☆☆☆☆☆