Scandal Sheet: An Odd, Disjointed Look at Estonia's Political Climate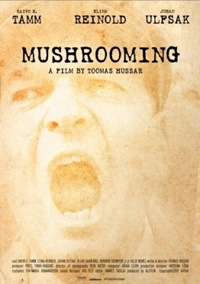 Estonian director Toomas Hussar makes his screen debut with Mushrooming, a sort of political satire, sort of comedy, sort of faux thriller that may very well keep you wondering what it's up to, but ultimately ends up anticlimactic. While it's first half seems to have all the ingredients of a zany screwball genre mash up a la Severance or The Cottage, perhaps Hussar's film is simply the victim of expectation, but though the end result isn't particularly funny or interesting, its worst crime is combining these elements with a stilted (and rather unbelievable) finale.
Aadu Kagu (Raivo E. Tamm) is an esteemed member of Parliament in Estonia, and at the beckoning of esteemed new handler, Silvi (Hilje Murel), he has agreed to engage in some activities that will enhance his public image, such as appearing on a degrading, gimmicky game show. The trouble is, Silvi also advised Aadu to list a pleasure trip to Peru as work related, and a nosy journalist has discovered the suspicious looking government expense and begins to investigate. Unfortunately, Aadu has taken his wife Viivi (Elina Reinold) away for a Sunday afternoon of some serious mushroom picking and he is unable to engage in some much needed damage control for the story that is soon to break. At the same time, the couple is inconvenienced by a hitchhiking rock star, Zak (Juhan Ulfsak), who opts to stay in the car while the Kagu's look for mushrooms. It's not long before they unceremoniously get lost and suffer from a dying cell phone battery, leaving them stranded in the woods. Meanwhile, Zak is accosted by a local redneck, which drives him into the woods where he runs into Aadu and Viivi. Eventually (after another run in with the redneck), the threesome are rescued in the middle of a military drill in the woods, and Aadu Kagu returns to the media shit storm surrounding his carefree use of government funds.
The initial setup of Mushrooming seems fashioned after many a horror in the woods stories, replete with a host of exaggerated or self important personalities that seem desperately in need of a comeuppance. As the porcine politician, Raivo E. Tamm takes the cake for lead asshole as well as most compelling characterization. As his mousy, neglected wife, Elina Reinold falls to the wayside in the second half, even though Hussar takes great pains to establish a not-so-subtle developing attraction between her character and petulant rock star, Zak. While a violent run in with a possibly crazy local living in the middle of the woods remains a troubling loose end, both for the characters and the film as a whole, Mushrooming at first seems to elude expectations, but then stops flatly with a statement concerning the credulity of the public at large and the lack of morality in politicians. While an expertly filmed monologue from Tamm happens to be arresting at the film's finale (followed by a confusing and abrupt closing sequence), one realizes that perhaps Hussar may just be conveying the obvious. Which is, ultimately, disappointing.
Reviewed on April 20 at the 2013 Disappearing Act European Film Festival.