Reviews
My Old Lady | 2014 TIFF Review
Seeds of Yesterday: Horovitz's Debut a Tonally Uncomfortable Adaptation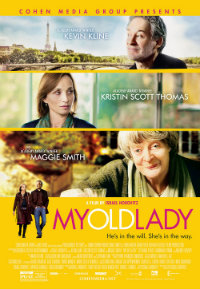 Playwright and screenwriter Israel Horovitz makes his directorial debut with My Old Lady, an adaptation of his own play which originally opened back in 2002. At times a richly observed portrait of coming to terms with the traumatic events of the past when we're finally forced to, more often than not, the film's awkward tonal shifts lends the film a generally unpleasant ambience. There's no smooth segue from its belabored setup from hokey comedy to unctuous soap opera of seedy family secrets. Fans of its three main star attractions will find Kline, Smith, and Scott-Thomas in overall fine form, though the artificial quality of the material often makes their interactions feel forced.
A down and out New Yorker in his late 50's, Mathias Gold (Kevin Kline) thinks he's solved all his financial problems when his estranged father leaves him a Parisian apartment (even though the considerable fortune went to a charity). Spending his last bit of coin to go to Paris and sell the apartment, his daydreams are punctured when he meets the nonagenarian living there, an Englishwoman named Mathilde Girard (Maggie Smith).
Mathilde explains that the apartment is a viager, which refers to an old French real estate system allowing buyer's to purchase property at a decreased value from the owner, but agreeing to pay the owner a monthly sum while allowing them to live on the property until the death of the owner, whereby the buyer would finally be allowed to move in. In other words, it's a system of gambling, but Mathias has been seemingly screwed from beyond the grave—not only is he bereft, he now must pay 2,400 euros to Mathilde and her daughter, Chloe (Kristin Scott Thomas) who cares not for Mathias, not one bit. Scheming to find a loophole in this crazy system, Mathias begins to learn about his father's past and how exactly Mathilde fits into the picture.
There's an infuriating contrived quality to My Old Lady, which begins with a frustrating quaintness that burns off midway through with a tense shuffle into V.C. Andrews territory by way of Lillian Hellman. While this surprising and off-putting turn of events does energize the narrative, Horovitz gives the dilemma too much gas. Stakes are too high and at every conceivable turn, mutating something that could have been an intense relationship drama with considerable dramatic potency into an affected disarray of flailing tonal shifts. It doesn't help that Kevin Kline's Mathias is unflaggingly pathetic, a man so irreparably fractured by his father's coldness that, about to enter his 60s, has nothing to show for himself.
Giving Mathias no sort of agency outside of his bitterness toward his father and a tragic incident with his mother that defined his early adulthood marks him not only as a perpetual victim but a perpetual bore. The clunky romance that miraculously sprouts between Mathias and the combative Chloe is grating, on hand for some tidy resolutions. Some sublime French character actors, such as Dominque Pinon (who usually stars in Jean-Pierre Jeunet's films) and Noemie Lvovsky, get frittered away in undesirable supporting bits.
Dame Maggie Smith is, as usual, a charming screen presence, here a wily senior citizen (she's actually a good decade younger than the woman she's playing) with a host of secrets up her sleeve, though she's really reduced to a mere prop, the catalyst for Mathias' awakening.
Some genuine emotion does shine through, especially when Mathias reveals some scarring memories to Chloe, but once Horowitz reveals these dark depths, he tries to spring away from them back to a safer plateau, which makes the last act feel rushed and rather uncomfortable, especially considering the strange perversity of the situation.
Reviewed on September 7th at the 2014 Toronto International Film Festival – Special Presentations Programme. 107 Minutes
★★½/☆☆☆☆☆