Reviews
Night Train to Lisbon | Review
Ride on Time: August and Another Puerile Adaptation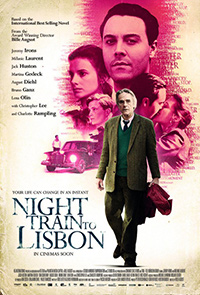 It's evident that Danish director Bille August favors helming adaptations of challenging novels, though the end result isn't always praiseworthy, such as his infamous 1993 adaptation of Isabel Allende's House of the Spirits, which rankled many for its brazen casting of white actors in expressly Latin source material (though this was only one of many issues in the film). August returns with a cast of many international colors for an adaptation of Pascal Mercier's novel, Night Train to Lisbon, and the result is a gratingly stilted endeavor, a muddled miasma of vapid, historical based intrigue that dilutes its own specific political angles with its pan-European blandness.
Raimond Gregarius (Jeremy Irons) lives a dull existence as a classical studies teacher in Bern, Switzerland. One dismal day on his way to work, he saves a young woman (Sarah Buhlmann) about to jump off a bridge. Both soaked by the rain, he bustles her off into his classroom, but as he begins to expound on Marcus Aurelius, she absconds, leaving behind a red coat in which there is a book by a Portuguese doctor named Amadeo de Prado, which seems to be a philosophical memoir about a struggle against the dictatorship in Portugal. And inside the book is a ticket for a night train to Lisbon.
Abandoning his class mid-lecture, Raimond attempts to find out more about this young woman, visiting the bookstore where she purchased the rare memoir to find that it's the book that's caused her current mental state. But why? Raimond reads the memoir as he travels to Lisbon and becomes immediately obsessed with the arch, verbose philosophies it entails, and is soon embroiled in the mystery if the now deceased Amadeo de Prado, first visiting his sister (Charlotte Rampling), who seems to be stuck in the past. But a routine eye appointment yields more results when a flirtatious optician (Martina Gedeck) reveals that her institutionalized uncle (Tom Courtenay) was not only part of the Resistance movement with Amado but would love to speak with them. From there, Raimond visits a priest (Christopher Lee) who once taught Amadeo, son of magistrate (Burghart Klaussner) who had close ties in Salazar's regime. And then we are graced with flashbacks of the young Amadeo (Jack Huston) and his involvement in the resistance with the help of his friends and lovers (August Diehl and Melanie Laurent, characters portrayed as aged and wizened by Bruno Ganz and Lena Olin).
While there seems to be an inkling of potential interest somewhere in this rather bland tale of political unrest and resistance of dictatorship, it's sandwiched ludicrously betwixt the junior detective work of Irons' character, whose motivations for such lofty endeavors are borne out of an extremely stagnant scenario. Iron's Raimond continually bemoans how dull his own life is, explaining to Gedeck's optician that his wife left him due to boredom. Now, inspired by a suicidal female who has in her possession a memoir of which only one hundred copies were ever printed, he explains that Amadeo's "life is extraordinary and mine is so insignificant." Then, later he admits "I want to know it felt to be Amadeo." Meanwhile, his boss keeps calling from Bern inquiring about when he will return.
The cast, curiously comprised of various British, French, German and Swedish stars all speaking English doesn't feature any major Portuguese players. Several of these cinematic alums are used similarly in other Euro-flavored features, like Rampling, who also happens to play a fixture of the past in this year's The Sea, or Lena Olin, who pops up here for last minute reveals in the same fashion as she does in The Reader (2008). All throughout, one can't help but feel these are the kinds of fabricated actions and events that occur only in the confines of a formulaic imagination, whether it take shape in novel or cinematic form. In fact, this is really the hokey cinema of emotional convenience, the kind that bludgeons its subtleties, such as a flashback of Amadeo's funeral where his bereaved father waxes about his pride for his dead son while his daughter censures him for not ever stating that before as they float quickly off-screen, or an infuriatingly doe-eyed Gedeck, a character without motivation, to exist as a necessary love interest.
Despite a sometimes curious visual palette, which veers from subdued period piece to a brightly hued present tense Lisbon, August's train takes its time going nowhere with an attention worthy cast that hinders rather than enhances the meager narrative.
1/5 Stars