Stone Cold: Ma's Bleak Debut Conveys the Uselessness of Doing the Right Thing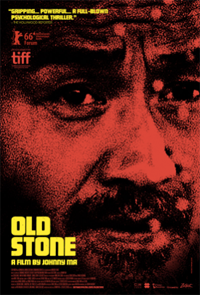 Nice guys don't get ahead, at least not if they're part of the working class in China according to Johnny Ma's cynical directorial debut Old Stone, which has enjoyed a healthy festival circuit run following its premiere at the Berlin International Film Festival in early 2016. A frustrating yarn about an arguably naive family man who gets inadvertently swept up in a blatantly corrupt government system, this bleak melodrama has twitches and echoes of an economically inspired thriller to it, but instead plays like a topical nightmare Ma fished out of a corrugated mire of similarly tragic news items from any given day. When a taxi driver accidentally maims a motorcyclist, his life is turned upside down when he shirks company protocol and saves the man's life by bringing him to the hospital, an action he is later forced to regret when he assumes the burden of responsibility for shouldering the man's medical bills while he meanwhile faces legal recourse.
Taxi driver Lao Shi (Chen Gang) finds himself in an unexpected sticky wicket when a drunken passenger grabs his arm, causing him hit a motorcyclist. Sustaining obviously detrimental injuries, Shi goes with his instinct and rushes the man to the hospital, where doctors credit the driver with having saved the man's life thanks to his immediate response. But who is going to pay the victim's bills? It turns out, Lao Shi has to, because he's the one who drove him to the hospital. What's worse, according to his superiors, he technically didn't follow protocol by waiting for assistance to arrive on the scene. And so, saddled with mounting debt, and an incredibly displeased wife (Nai An), he attempts to ask old friends (Wang Hongwei) for monetary assistance before finally realizing something much more drastic is necessary in order for him to regain control of his life and finances.
If Ma had reserved some energy for dark comedy, Old Stone could have seemed like something out of a Coen Bros. inspired soap opera of snafu, but Ma keeps this simmering at an abjectly bleak operating level, which sometimes denies the film the lethal edge required for a finale as chilling as it is a fussy, expected cliché. Instead, this plays out in an earnestness not unlike Argentinean Pablo Trapero's 2010 film, Carancho, which details a troubling cottage industry built around insurance scams relating to car accidents. Ma's film seems to position the notion of doing the right thing as a luxury few can actually afford (and thus, this makes an interesting counterpoint for another indie Chinese film hitting US theaters, Xioagang Feng's I Am Not Madame Bovary, in which a woman becomes the victim of her own circumstances in an effort to cheat an impossible bureaucracy), and instead creates an uncontrollable maelstrom which is borne of the material which used to be termed Kafkaesque but now seems accepted as the norm.
As Gang Shen's Lao Shi begins to spiral out of control, drinking and driving, holing up in cheap, shrill arcades and neon blazed facades of the night, so does Ma's film begin to take on more visually striking, and garish overtones, with DP Leung Ming-Kai capturing the film's victim in long shot, as if to enhance his increased diminishment and lack of control. Frustrating, because it's clear Lao Shi has waged a losing battle from the get-go by failing to see how just how imbalanced the odds are against him, what's perhaps most effective about Old Stone is the logical choice he's driven to, asserting the cost effectiveness for all involved to kill rather than save a life.
★★★½/☆☆☆☆☆