A Lover I Don't Have to Love: Ross' Debut Explores Troubled Romance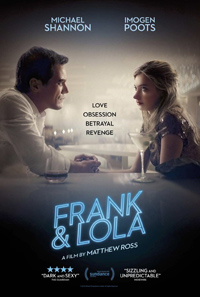 Notions of monogamy and ownership hover on the troubling periphery of Matthew Ross' debut Frank & Lola, a toxic psychological drama depicted exclusively from a masculine perspective. Its title would suggest an attempt at equal rendering of its titular characters, but Lola, along with any other female characters, remain wrapped (or perhaps warped) in mystery, their motivations and ideals manipulated by the desire or fear of the men in their lives. Despite failing the Bechdel Test, it's another impressive psychological performance enhanced from the master of intensity, Michael Shannon, while Ross dances around predictability with an ambience promising a darker potential. Although the film ultimately doesn't satisfy as either a thriller or a relationship drama, it's an interesting exploration of gender roles, a refracted odyssey of slut shaming stigma set specifically against the transient excess of Las Vegas and the Machiavellian underbelly of Parisian nightlife.
Frank (Shannon) is a gifted Las Vegas chef currently facing unemployment after his restaurant is overtaken by new owners. Having just recently met Lola (Imogen Poots), he seems content with exploring their deepening connection. After scoring an opportunity to begin her career as a fashion designer with a flirty entrepreneur (Justin Long), Lola's luck seems to be on the rise, which awakens jealous tendencies in Frank. Tragedy strikes when Lola suddenly cheats on him, throwing the couple into immediate turmoil. Unsure if he can cope with her infidelity, Lola scrambles to convince him to stay, claiming she was raped by one of her mother's (Rosanna Arquette) exes, a wealthy Swedish businessman, Alan (Michael Nyqvist), living in Paris. When Lola's new boss provides a significant network opportunity for Frank, the chef finds himself on his way to Paris to audition for a lucrative restaurant—and he decides, to his detriment, to seek out Lola's victimizer.
At several points, the troubles of Frank and Lola seem to call for Elvis' crooning of "Suspicious Minds," which seems to indicate an underlying elemental aspect to Ross' narrative. And yet, there's an arresting menace to this scenario thanks to Shannon's ability to believably accelerate from bridled pacification to violent delirium within any untoward exchange. It's as if Frank & Lola could dip, at any given moment, into Patricia Highsmith territory. But Ross resists genre strict genre considerations for a continued examination of serpentine emotions for Frank. His tenuous relationship with Lola feels one-sided from their first interaction, her requests already promising incompatible preferences between them. However, Lola is crafted in superficialities, hiding behind the beauty of actress Imogen Poots, even indicated in the vague details of her professional goals designing fashion. Frank is a talented chef, and Ross takes pains to portray the character as a protector, someone who can defuse a woman's ultimate source of problematic toxicity—her mother (a likeable cameo from Rosanna Arquette). Frank is a man who actually provides sustenance for Lola with his very own hands, and so his actions to conquer the man who injured Lola is presented believably.
Though it's unclear where exactly Ross' stance is on the elements causing Frank and Lola such emotional strife, it's a film which genuinely grapples with the inconsistency between ideals and reality when becoming romantically involved. This interestingly hinges on Lola's culpability—did she or did she not enjoy being a submissive slave to Nyqvist's wealthy autocrat? Easy answers aren't provided, even though the lack of agency for Lola seems troubling throughout. Spied upon, manipulated, and denied any sort of dimension beyond her relationship to the men who can provide meaningful exchange for her services as a female, she's a conglomeration of stereotypes we attribute as shorthand for the 'fallen woman.'
Framed as subservient, an object acted upon in nearly all of DP Eric Koretz's shots, Frank & Lola's final moment offers a last minute surprise in its positioning of these two characters, a powerful reflection of gained advantage and a reversal of the notion on ownership.
Reviewed on January 27th at the 2016 Sundance Film Festival – Premieres Programme. 88 Min.
★★★/☆☆☆☆☆