On the Milky Road | Review
Road to Nowhere: Kusturica Returns with Aimless War-Torn Fairy Tale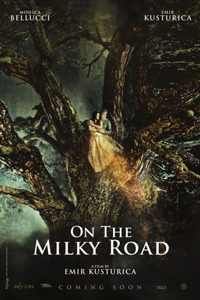 All's certainly not fair in love nor war in Serbian director Emir Kusturica's first film in nearly a decade, the languorously gestated On the Milky Road. The two-time Palme d'Or winner (While Father Was Away on Business, 1985; Underground, 1995) returns to life during war-time with his latest, set during the Bosnian War where a milkman and an Italian-Serbian refugee betrothed to a Serbian general she has never met fall in love betwixt hailstorms of bullets and bacchanalians.
Inspired by his short film "Our Life," which was part of the 2014 omnibus feature Words with Gods, Kusturica's usual penchant for belligerently pitched carnivalesque antics is full throttle in this latest feature, which was treated to a similar stop-and-start production technique as were several of his previous films. Filled with visual flourishes which are as awe-inspiring and wonderous as the film's narrative thread is hopelessly insincere and trite, Kusturica proves to be his own worst enemy in a splendorous bauble which plays like a pale echo to the (sometimes compromised) endeavors he's most noted for, such as Underground or 1993's English language Arizona Dream. His latest offering premiered at the 2016 Venice Film Festival (Kusturica's third inning on the Lido).
Kosta (Kusturica), who delivers milk through the war-zone whilst avoiding bullets with the help of his faithful donkey and pet falcon, leads a lonely existence amongst the other survivors from his village. The others explain his forlornness as thanks to seeing his family slaughtered in front of him, but his easygoing demeanor makes him a prize conquest for Milena (Sloboda Micalovic), a former Yugoslav gymnast who plans on marrying him as soon as the war is over. When Milena ends up purchasing an Italian-Serbian woman known only as the Bride (Monica Bellucci) from a marriage broker for the purposes of marrying her brother Zaga (Predrag Manojlovic), who's away fighting in the war, a star-crossed romance blooms between the mysterious woman and Kosta. When war ebbs into peacetime, the eve of a double wedding is night. However, the best laid plans of both the Serbian people and the besotted Milena soon come crashing down.
Much like Wim Wenders, another seasoned auteur whose obsessive visual fixations tend to destroy the narrative possibilities in his late career offerings, Kusturica prizes style over substance and dismisses any sense of cohesiveness in his latest, which prattles on through vague chunks of character exposition as regards his two main characters. What's more interesting are the textured metaphors regarding animals, such as the peregrine falcon which guides and protects the hapless Kosta, the snakes who drink the spilled cow milk, and the gaggle of geese who have learned to bathe themselves in the blood of the slaughtered pigs to attract flies to feast upon. What any of these signify, besides a world gone topsy-turvy as Mother Nature's moving parts have learned to be as equally conniving as the endangered human element in this perpetual conflict zone, are perhaps On the Milky Road's greatest bits of intrigue.
The film's tone strays into the style of a "Hogan's Heroes" episode as reimagined by Jean-Pierre Jeunet in how it handles the warped romance of Kosta and the unnamed Bride, played by a luminous-as-ever Monica Bellucci. But Kusturica makes the same mistake of many an auteur before him (the biggest exception being Giuseppe Tornatore in the seminal 2000 title Malena) by treating Bellucci as merely another beautiful object, a symbol of mixed patrilineage whose backstory hardly seems to matter (and neither does her immediate attraction to Kosta, laid out in a maudlin exchange about not being the same people they once were, etc.).
Of more interest are the tapestry of wild-eyed Serbian survivors alongside Kosta, including the Capraesque Flashdance swilling ex-Olympic gymnast played by Sloboda Micalovic, a woman whose sights are set on marrying Kosta in a nonsensical double marriage ceremony which would also see nuptials exchanged with her brother Zaga (Kusturica regular Predrag Manojlovic) and the Bride, despite the latter's necessity for discretion because an ex-lover, a dangerous General, is dead-set on recapturing her dead or alive.
While the first half of On the Milky Road rides roughly over cornball romantic claptrap, the last act of the film finds Kosta and the Bride fleeing cross-country from a trio of incredibly aggressive soldiers. At times, Kusturica and Bellucci even exude a winning chemistry, although they're never quite believable as lovers, no matter the varied suggestive flights of fancy they're placed in, like the protective caresses of a windswept gigantic tree, or the dilapidated river shed whose shanty walls crumble underneath the vibrations of their lovemaking.
While overtly fantastical, this is also where Kusturica's film runs smoothest, like the climax of an old Baba Yaga yarn as the selfless falcon overhead commands the elements to assist the haggard lovers. The grand finale is a flourish of macabre Grand Guignol, as the refugees hide beneath a flock of distressed sheep who are blown to smithereens by errant mines. Bloody, brutal, and like many sequences of the film, filled with breathtaking shots of sumptuous visual stimulations, it's a pity Kusturica wasn't able to morph his compelling ideas into the poignant tapestry of romantic disarray he so clearly is aiming for. A meditative epilogue also seems to suggest the perfect cap to another, more tenaciously potent narrative than what's come before.
Reviewed on January 31st at the 2018 Filming in Italy Film Festival. North American Premiere. 125 Mins.
★★½/☆☆☆☆☆