Disc Reviews
Tuesday Blus: Henri-Georges Clouzot's Inferno & Delmer Daves' The Hanging Tree
This week's edition of Tuesday Blus includes the following titles: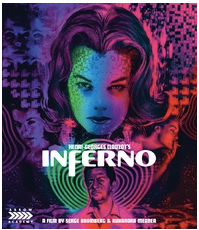 Henri-Georges Clouzot's Inferno (2009)
Film Review: ★★★½/☆☆☆☆☆
Disc Review: ★★★★/☆☆☆☆☆
After Dante Alighieri but before Dario Argento and Ron Howard presented us with their formulations on their fiery approximations of hell sharing the same title, pre-Nouvelle Vague auteur Henri-Georges Clouzot attempted the ambitious and ill-fated Inferno, a nightmarish portrait of one-man's extreme and consuming jealousy about his beautiful wife. A perfect storm of attitude, circumstance, and aggressive techniques on the part of its once celebrated director resulted in halted production and abandonment of the project. While Claude Chabrol, who came into prominence with the rise of the New Wave, shot a 1994 version of the narrative based on Clouzot's script, known as L'enfer, documentarians Serge Bromberg and Ruxandra Medrea were granted access to Clouzot's materials, left untouched for five decades, at the behest of his second wife.
What they've cobbled together is a fascinating behind-the-scenes portrait of a director who lost control as he churned out countless scenes of nightmarish beauty featuring the iridescent Romy Schneider. As no audio exists, portions of the script are read aloud by Berenice Bejo and Jacques Gamblin standing in for the Schneider/Serge Reggiani roles. An interesting hybrid exercise on the famously derailed production, a number of talking heads recount the context of Clouzot's state-of-mind, a man who had come off his last celebrated feature The Truth (1960) with an Oscar nod for Best Foreign Language Film then forced into mourning the sudden death of his first wife while reeling from the stinging critique lobbed at him in Cahiers Du Cinema by members of the New Wave. While the Bejo/Gamblin asides end up feeling wholly unnecessary (for a better staging of the scenario, just watch Chabrol's version starring Emmanuelle Beart and Francois Cluzet), the documentary aims to piece together a lost chapter of French cinema, inspired by the maddening narratives of Fellini and fashioned with painful precision by an auteur consumed by his own craft. An intriguing glance at a notorious failed film production, Henri-Georges Clouzot's Inferno is must see for fans of the accomplished auteur, as well as anyone prone to getting drunk off the beautiful visage of Romy Schneider.
An inspired release from Arrow Academy, Inferno arrives in a new masterful high-definition Blu-ray in 1.78:1 with 5.1 DTS-HD Master Audio. The collage of color montages meant to reflect the madness of the tortured protagonist are lurid and haunting. As usual with Arrow, a handful of notable extra features are also included. Lucy Mazdon on Henri -Georges Clouzot and Inferno: French cinema expert Lucy Mazdon deliberates on the cinema of Clouzot as well as the doomed production of Inferno in this twenty-one-minute feature. Introduction by Serge Bromberg: Director Serge Bromberg introduces his film in this near nine-minute bit. They Saw Inferno: This hour-long featurette includes unseen material not provided in the documentary, meant to provide further insight into the troubled production. Interview with Serge Bromberg: Director Serge Bromberg speaks of his attraction to the subject matter in this eighteen-minute interview.
***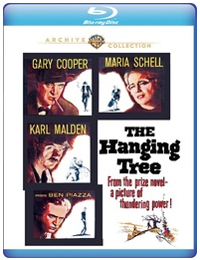 The Hanging Tree (1959)
Film Review: ★★★½/☆☆☆☆☆
Disc Review: ★★★/☆☆☆☆☆
Before Jennifer Lawrence had a surprise spoken word track remixed from The Hunger Games: Mockingjay called "The Hanging Tree," it was an also the name of an Oscar nominated song crooned by Marty Robbins for the Delmer Daves' 1959 film of the same name. Based on a novel by Dorothy M. Johnson, Daves famously became ill before filming was completed, necessitating co-star Karl Malden and Vincent Sherman to step in to finish the job. Perhaps more notably, this was the last Western to star Gary Cooper, the genre which had resurrected his career earlier that decade with the iconic High Noon (1952).
Cooper stars as tortured doctor Dr. Frail, a man who has relocated to Skull Creek, Montana in 1878 to run from the tragedy which has ruined him (the locals gleefully reference it every chance they get concerning how his wife and brother went up in flames with his old home after he discovered they were having an affair). Taking the name Frail (in a move similar to that of Cheryl Strayed from Wild), he eventually blackmails a young criminal he saves from death named Rune (Ben Piazza). While the younger man becomes his indentured servant, the presence of an injured Swiss immigrant Elizabeth Mahler (Maria Schell), who is found burnt and blind after surviving the looting of her stagecoach which had also been transporting her father, turns their lives upside down. As the good doctor nurses the woman to recovery, Elizabeth shares a blossoming romance with her savior whilst embarking on a business venture with the lascivious Frenchy (a greasy Karl Malden), and they strike it rich when they find a 'glory hole' of gold. When Frenchy attempts to rape Elizabeth, Frail kills him, leading to mob justice from the villagers, orchestrated by the religious zealot of a preacher (George C. Scott in his debut). Elizabeth offers her loot to the villagers in hopes to save the lynching of Frail.
While Cooper faced a backlash at the time of release due to what had been considered a botched face-lift, it's rather a monotonous performance for what would stand as his last Western. Maria Schell and Karl Malden add some nice shades of color, but for something a bit more salacious concerning mankind's wayward nature filtered through the Gold Rush, check out Erich von Stroheim's Greed (1924). A basic study on mankind's base tendencies, The Hanging Tree never cuts the foreboding figure it promises.
Released as part of Warner Bros. Archive collection, The Hanging Tree is presented in 1.78:1 with DTS-HD Master Audio. Picture and sound quality are serviceable in this Blu-ray transfer of an obscured title. No extra features are included.
***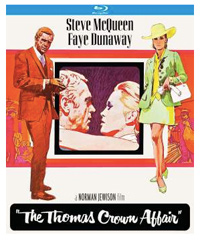 The Thomas Crown Affair (50th Anniversary Special Edition) (1968)
Film Review: ★★½/☆☆☆☆☆
Disc Review: ★★★/☆☆☆☆☆
Despite being directed by Norman Jewison and starring the commendable pairing of Steve McQueen and Faye Dunaway, there's an inescapable sense of mediocrity in the tepid 1968 version of The Thomas Crown Affair, which was famously remade in 1999 to more-or-less the same effect by John McTiernan with Pierce Brosnan and Rene Russo in the leads (meanwhile, a rumored version starring Michael B. Jordan could give us a triptych). Back in 1968, though fresh off his political satire The Russians Are Coming! The Russians Are Coming!, Jewison seems an odd choice to helm this Alan Trustman script (who wrote the more iconic McQueen vehicle released that same year, Bullitt). Before Brian De Palma arrived to show us how a split screen ought to be used in genre cinema, this jangling nostalgia of swinging sixties superficiality hardly plays well in a scenario which boils down to a bored, privileged one percenter using his time and influence to rob a bank of two million dollars and then with equal nonchalance, return it without ever having to suffer any consequences. Sounds about right.
Fans of McQueen may not swoon, but a post-Bonnie & Clyde Dunaway as insurance investigator Vicki is in prime diva swoon. Smirking her way through a series of demeaning moments meant to justify her attraction to McQueen, once she arrives nearly forty minutes into the film she adds a much needed riveting component, decked out as she in continuously white garb (including leggings) before a crescendo of sexual tension ends up in what may be the most clichéd use of chess ever concocted (and also one of the least sexiest, as both actors awkwardly stick fingers in their mouths or across their lips as a visual approximation of either desire…or panic). Hardly as good or as memorable as either of its two stars would otherwise suggest, The Thomas Crown Affair is exactly what it's title promises—a smug escapade from the perspective of its privileged lothario.
Kino Lorber releases The Thomas Crown Affair as part of their Studio Classics label in 1.85:1. Picture and sound quality are improved from the title's initial Blu-ray transfer in this new 4K restoration. Audio commentary from Norman Jewison as well as film historians Lem Dobbs and Nick Redman accompany several extra features on the release. Interview with Norman Jewison: Director Norman Jewison discusses The Thomas Crown Affair in this nineteen-minute interview. Interview with Pablo Ferro: Designer Pablo Ferro discusses the title design of The Thomas Crown Affair. Three's a Company: This 1967 on the set featurette finds cast and crew commenting on the film in this eight-minute segment.