Drawn That Way: Kline Makes a Mark with Singular Coming-of-Age Comedy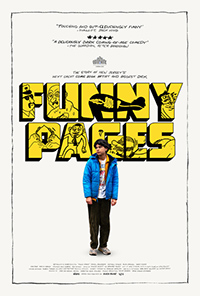 The emphasis of form vs. soul is the riddle at the crux of Funny Pages, the directorial debut of Owen Kline (son of Kevin Kline and Phoebe Cates), a singular coming-of-age comedy which plays like a Fellini cartoon strip of colorful down-and-out New Jersey characters. While most of the tangential oddballs are searching for some semblance of balance, salvation or succor, Kline's teen protagonist, a talented but pretentious youth of privilege who rebels against his parents to embrace the romanticized ideal of the artistic vagabond, eventually is led to the precipice of understanding the inchoate symbiosis of form and soul—-they're both creatures requiring sustenance.
Sharp but sweet, it's an authentically inclined odyssey about the search for authenticity, playing like a loving homage to the world of underground comic artists and their indefatigable collectors. At its glorious best, Kline leans heavily into a culmination of slapstick hysteria, ending where it began, where a drawing lesson's complex vulnerabilities lead to explosive impact.
Following the unexpected death of his art school teacher, seventeen year old Robert (Daniel Zolghadri) gets arrested for breaking into the man's office to retrieve some of his drawings. When the charges are dropped, thanks to the court appointed Cheryl (Marcia DeBonis), Robert announces to his annoyed parents (Josh Pais, Maria Dizzia), he will not be returning to high school after winter break so he can instead get his GED and have the kind of life experiences he needs to become a true artist in anticipation of art school. Moving out of their comfortable home in Princeton, New Jersey, he finds a shared space in the boiler room of a Trenton apartment building rented by Barry (Michael Townsend Wright), who confirms no one can know Robert's living there.
Delighted at his newfound independence, Robert supplements his wages working at a comic book store by getting a job as Cheryl's assistant, where he meets her client, Wallace (Michael Maher), currently fighting charges for in incident which took place at a local pharmacy. Robert is instantly enamored with Wallace when he discovers the man used to work as a color separator at a reputable comic publisher, ingratiating himself into the man's world, who reluctantly accepts the young man's attentions in exchange for rides and money. Robert begs Wallace to give him a drawing lesson at his parent's house in Princeton on Christmas Day. Unfortunately, Robert forgets to tell his parents he's invited a guest.
By the time the opening credits roll, Robert's already been dealt an unexpected and bizarre blow through the death of his art teacher mentor, Mr. Kitano (Stephen Adley Guirgis, writer of Baz Luhrman's The Get Down). Every ensuing sequence finds Robert absorbing events and people in an attempt to fill this void, which falls upon the incapable shoulders of the unstable Wallace (a stupendously prissy and entertaining Matthew Maher). Initially conjuring our empathy, Robert eventually reveals himself to be, simultaneously, the villain of his own story, evidenced through his jealousy and sabotage of his friend Miles (Miles Emanuel). However, Zolghardi proves to be a deft navigator as Robert despite his sometimes reprehensible but logically adolescent behavior.
Assumptions are made about his constantly irritated parents, (with Josh Pais and Maria Dizzia both enjoyably condescending), considering they somehow managed to raise a child who would rather live in a sweltering hovel with a pair of wildly unkempt gay men whose myriad of issues Kline barely touches the surface of. But with the down low landlord Barry, Michael Townsend Wright, and cohort Steven (Cleveland Thomas, Jr.), Kline paints a pair of entertaining characters who are, at least, affectionally attenuated. Like the equally sweet Marcia DeBonis as legal counselor Cheryl, and a slew of other eccentric characters who look like they're ripped from the pages of a caricature comic strip, Kline shows us immediately who these people are in sometimes the briefest of pen strokes. A cameo from Louise Lasser (of Mary Hartman, Mary Hartman and a handful of early Woody Allen films) is underlined with a troubling discomfort in her performance as a teary eyed, but sharp tongued woman demanding her Percocet in one of the film's other shining moments in a raggedy Rite Aid. Ron Rifkin also pops up briefly as a grandpa unable to navigate the settings on his television.
Produced by the Safdie Bros., which makes sense since Funny Pages plays like one of their earlier works, like 2014's Heaven Knows What (which was also shot by DP Sean Price Williams, a regular collaborator with Alex Ross Perry), there's a zany, exaggerated essence of tragicomedy which conjures the memory from the stable of 1970s auteurs who also influenced the Safdie's, those purveyors of dog-eared, roughhewn human edges, like Jerry Schatzberg or John Cassavetes. A bit more clear, concise and grimy than Kirill Mikhanovsky's Give Me Liberty (2019), Kline similarly conjures the essence of a certain place, winnowing down into the sort of creative, escapist bubbles showcasing an intersection of obsessive personalities chasing dreams and ignoring reality.
★★★★/☆☆☆☆☆