City of Neon Lights: Marie's Debut a Soundtrack Assisted Cliché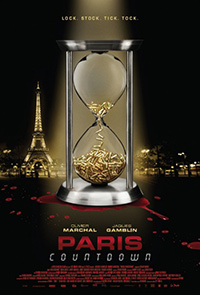 How the title Paris Countdown was decided upon to stand as the English language translation of Le Jour Attendre (Day Wait) is the first of many unnecessary questions to ask while watching Edgar Marie's directorial debut, a revenge thriller meant to be a pulse pounding high octane endeavor, filled with car chases, violent showdowns, double crossings, vaguely relayed female characters in distress, and a thumping soundtrack.
Milan (Olivier Marchal) and Victor (Jacques Gamblin) are best friends and co-owners of a Parisian nightclub, Le Sound. Unfortunately, they're in considerable debt, and Milan gets them involved in a drug trafficking transaction that gets horribly botched in Mexico. Tortured, they agree to squeal against their liaison, Serki (Carlo Brandt), who gets sentenced to six years in prison. Upset and traumatized, Victor vows never to speak with Milan again. Unfortunately, Serki is unfathomably psychotic, and so, six years after his release, Victor and Milan must reunite in an effort to survive Serki's unstoppable thirst for retribution.
Visually, Paris Countdown is a neon lit nightmare of an endless parade of seedy looking dance clubs frequented by well-dressed beautiful people, buildings and parking lots lit in fluorescent greens and blues, and plenty of hellish emergency reds. Cinematographer Danny Elsen, whose more notable titles are middling efforts, like both versions of Loft and Antoinette Beumer's Jackie, should please fans of Refn's Only God Forgives with his work here. And despite having a killer soundtrack, Marie lets the music wear the film and not the other way around, with notable tracks transplanting the only life into some sequences, as if arriving from some other, better film (such as the poor used of Vitalic's track "Second Lives," despite some possible irony from the song title). Pointed reference to famed Euro-adored DJs like Bob Sinclar and David Guetta seems like an apology for not cramming in some of their tracks.
Marie, who also wrote the screenplay, peppers his script with deliriously campy one liners, like Reda Kateb insisting that "The only drug I know is money, and you're in withdrawal!" But amusing as several moments are, Marie's got nothing particularly memorable in store for us with Paris Countdown. "The night's changed," our two grizzled protagonists are informed. Yes, as have expectations for cinema determined to mine well tread territory.