Reviews
Paul Williams Still Alive | Review
Kessler Gets The Rainbow Connection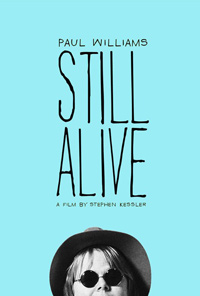 Back when Paul Williams was a supremely popular songwriter, a regular on Johnny Carson, and a freshly awarded winner of an Academy Award, a Grammy, and a pair of Golden Globes, there was no way he could predict he would be living out his old age in moderate obscurity, a forgotten ghost of 70s ballads, and Studio 54 drug use. Some super fans (director Stephen Kessler included) thought Williams had died young, either asphyxiated on powder, or drowned in self indulgence. But the now long sober writer behind such hits as The Carpenters' "We've Only Just Begun", Three Dog Night's "An Old Fashioned Lovesong", and the much beloved "Rainbow Connection" sung by Jim Henson as Kermit, is very much still alive, seemingly happier than ever, despite the lack of fame and riches many of his luckier contemporaries still carry with them today. Kessler's first documentary, Paul Williams Still Alive, is a humorously self referential reflection on celebrity, success, and personal happiness that explores Williams's rise and fall with critical adoration.
Kessler grew up idolizing the stout songwriter for his joking public persona, his lyrical obsession with loneliness, and the authenticity that came along with those sad sung words. When Kessler finally met Williams after a well received show north of the border, the plan to film a documentary was OKed, but shortly into the process Paul couldn't stand the cameras constantly rolling without acknowledging Kessler's presence. So, what was originally planned as a PBS style biography piece, turned into what Williams dubbed, "The Steve and Paulie show," in which Kessler was unwittingly made a co-star in his own film.
At first, getting Williams to give up any kind of personal information seemed like pulling teeth, but as their relationship evolved over the two years he tailed him around the world, something happened – the mysticism between fan and celebrity slowly faded, and Paul and Steve were becoming friends. On a sold out tour of the government blacklisted country of the Philippines, Williams finally dropped his guard, finally letting Kessler into the fold. Once a high priority, unearthing the dirt behind his idol's fall from grace no longer seemed to matter. What Kessler discovers instead is a man looking continuously forward, humbled by his previous mistakes, yes, but content with his moderate fame, loving family, and middle class home.
Though originally a traditional bio, the film became a visual documentation of Kessler's journey with his childhood hero, and within it he deeply explores this odd relationship by questioning his ever changing motivations through contemplative voiceover, and highlighting the continuous give and take between Williams and himself. Rarely is Paul found seated firmly in an armchair taking traditional interview questions. Instead, Kessler's narrative tends to bob and weave around the vocal jabs constantly thrown by Williams, all while old VHS footage of television appearances play in between the gaps. In spite of its ramshackle, touch and go structure, Paul Williams Still Alive manages to paint a vivid picture of Mr. Williams by deconstructing his past and understanding his present with equal sensitivity. Now, if only Kessler himself could get his own career back on track.