We fell in love, but not in court: Demy References Parent's Filmography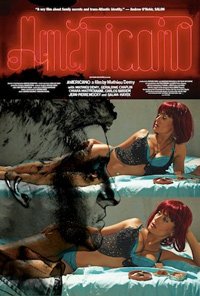 Americano, the directorial debut of actor Mathieu Demy, (son of two legendary cinematic directors from the French New Wave, Jacques Demy and Agnes Varda), is a fruit rife with cinematic incest and nepotistic subtexts. On it's own, this is a film about coming to grips with the past, familial relationships, and being a stranger in a strange land, but Demy has really created a cinematic wormhole, an intertwining device that unites themes from some of his parents' own obscure works, as well as autobiographical details, and a rich subtext heavily informed by the spectrum of cinema past.
Demy stars as Martin, a real estate broker in Paris, seemingly at the end of a relationship with his live-in girlfriend, Claire (Matroianni), who wants a baby. Suddenly, Martin learns that his estranged mother has died in Los Angeles, and he must travel there to repatriate the body and sort her affairs. It's clear that Martin feels his mother abandoned him years ago, and his father (Jean-Pierre Mocky) wants nothing to with the ordeal. Flying into Los Angeles, Martin connects with his mother's best friend (Geraldine Chaplin), who nursed her during her last few months of life. Attempting to sort the situation as soon as possible, Martin learns from his mother's neighbor about a mysterious young woman named Lola, a young immigrant woman that his mother cared for like a daughter. Discovering that his mother left something for her, he decides to track her down, learning that she has been deported to Tijuana. He discovers Lola (Salma Hayek), a beautiful and alluring stripper in a seedy joint called the Americano. He quickly becomes infatuated with her, finding himself in increasingly uncomfortable scenarios.
It's easy to pick up on some of the autobiographical details from Demy's life that are readily apparent. The grainy, childhood flashback sequences are taken from Agnes Varda's 1981 film, Documenteur , in which the young boy, Martin, is actually played by the young Demy. While Demy's parents eventually split up while living in Los Angeles where his father had been working on a film project that never came to fruition, Demy's film seems actually to be exploring his own coming to terms with memories of his absent father—but he uses the role of the mother to relate this cinematically, which becomes more compelling when discussing his father's purported homosexuality. But while Demy used actual footage from one of his mother's films, Americano plays like a melancholy and eerie continuation of his father's 1969 film, Model Shop. A continuation of the main character from Demy's 1961, Lola, it also contains one of the best lines ever written about the meaning of love when Anouk Aimee sadly says of her ex-lover, "If the word love has any meaning at all, it's not strong enough to express what I felt for him."
Aimee reprises her role from Lola in Model Shop , a lonely woman who lives in Los Angeles, reeling from being abandoned by her ex-lover who remains in France, working as a model that men pay to wear strange, fetishistic items while they photograph her. Hayek's femme fatale in Americano is thus named Lola, also a nod to his father's cinema, but Demy's Martin plays like the long lost child of that forlorn Anouk Aimee character. And just as Aimee is pursued by Gary Lockwood, her mysterious incarnation a la Hayek is pursued by Demy. Two of Demy's other key characters are played by children of cinematic legends, a refreshing Geraldine Chaplin (for once not a gypsy/mystic, crazy lady), and Chiara Mastroianni, daughter of Catherine Deneuve, the muse of Jacques Demy, and star of his bubbly, effervescent musical classics. In Americano, Demy's Martin is in a failing relationship with Mastroianni, unwilling to propagate with her, the offspring of his father's muse.
While Model Shop may be a foreigner's ode to Los Angeles specifically, Americano is the foreigner's state of mind in three very different locales, including Los Angeles, Paris, and Tijuana. A dual citizen, it's clear that Martin doesn't feel native to any of his settings (ironic, since he's a real estate broker, helping usher others to what they call a home), and the word Americano is itself a word denoting foreignness. Even in Tijuana, a bartender recognizes that Martin, while clearly not Mexican, is also not Americano. He's in-between places. On the surface, Demy's debut isn't making any strong statements, but he's drawing from a rich history and has made a subtle and engaging film about trawling forgotten memories from one's past. Americano begins and ends with a variation on the same word. Let's just say that, by the end, he's ready to exhale.