Oil!: Skjoldbjaerg's Latest an Icy Conspiracy Thriller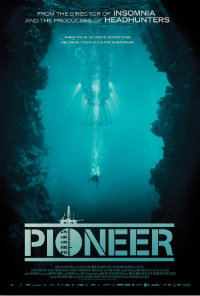 Norwegian director Erik Skjoldbjaerg has remained a hard director to peg ever since his celebrated 1997 debut, Insomnia, which predated the Nordic Noir craze that seems to have dominated the output of cinema from that region of the world for the better half of the last decade. A well intentioned English language debut followed with an adaptation of Elizabeth Wurtzel's memoir, Prozac Nation, which received a maligned theatrical release, while his next two features (including an Ibsen update) never received US distribution. Luckily his latest endeavor, Pioneer, which revisits real events from the early 80s Norwegian oil boom, will give him a bit more international attention. A mixture of native and American cast members, Skjoldbjaerg throws the events into a tangled web of conspiracy that sometimes seems to get a bit ahead of itself. But without a doubt, it's an expertly manipulated film featuring some terrific underwater sequences and another intense performance from Aksel Hennie.
In the early 80s, it was discovered that there was an abundance of oil located just beyond the Norwegian Trench, but getting to it would prove to be an arduous ordeal. Technology had to be developed to lay a pipe to suck all that oil out, but first it would have to be determined if divers could reach such depths. With the collaboration of an American company, a group of Norwegian divers trains for the task. But on the maiden trip to the depths, a strange accident happens, which kills Knut (Andre Erikson), apparently at the mistake of his brother, Petter (Hennie). Left to face Knut's widow (Stephanie Sigman), Petter is convinced that their expedition was sabotaged by the Americans, setting off an uneasy chain of events as he begins to ask questions no one wants to answer.
Perhaps best known to US audiences for his entertaining turn in the delectable 2011 film Headhunters (with director Morton Tyldum on the cusp of intense attention once this year's The Imitation Game sees release), or a supporting turn in studio dreck Hercules, Aksel Hennie proves to be a chameleonic presence, as equally believable here as an introverted and socially awkward deep sea diver with the believable fortitude to skirt nearly effortlessly through what appears to be a deadly conspiracy. If only some of the other members of the interesting cast could be as multifaceted. Wes Bentley is a bit of a red herring, appearing as a harbinger of menace, but with little to do but pop up unexpectedly as either help or hindrance. And yes, that's Mexican actress Stephanie Sigman of Gerardo Naranjo's Miss Bala (2011) in a rather throwaway role as Hennie's sister-in-law. Still, it's a nice showcase for her multilingual skills. Stephen Lang, of course, is a malevolent antagonist, so not much new there, but Anthony LaPaglia's brother, Jonathan, gives a curiously wooden performance as a dubious physician.
But it's in the claustrophobic underwater sequences where Pioneer leaves a more definite impression, and creates a sense of sickening tension that can't quite be recreated in the complicated cat and mouse dilemma that transpires as the film goes on. Details about who did what and who wants what and why get as murky as the green ocean's depth, and the eventual explanations as to what was really going on seem clipped, vague, even truncated, leaving a rather unsatisfactory residue over a film that promises to reveal so much more than just a showcase for another example of mankind's greed.
★★★/☆☆☆☆☆