Touch of Class: Ullmann's Update of Classic Text Ultimately Lifeless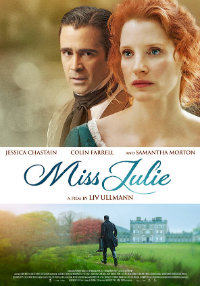 There are a scant few equals to the texts of playwright August Strindberg's, his 1888 play Miss Julie still ranking as one of theater's most celebrated and intelligent titles. A forerunner of a movement toward naturalism, director Liv Ullmann pares down the visual flourish which hearkens back to Strindberg's initial contrivance. Her first film since the critically celebrated Faithless (2000), which was written by Ullmann's longtime collaborator Ingmar Bergman, the passion that burned through that relationship drama is replaced by reserved bouts of class driven animosity. While true to the initial spirit of Strindberg's text, the focus here is devoted nearly entirely to class issues, leaving some of the play's more subtle motifs rather neglected. Considering the extravagant and mesmerizing 1951 version from Swedish filmmaker Alf Sjoberg, Ullmann's adaptation is a chewy piece of meat, a series of laborious monologues intermittently broken up by conservative bouts of foreplay and sexual congress, tonally weathered by muted emotional outbreaks.
On one midsummer night in 1890 Fermanagh, a fidgety count's daughter, Miss Julie (Jessica Chastain) insistently partakes in the worker's festivities. This is a frowned upon social transgression, and her valet, John (Colin Farrell) finds this rather unbecoming, at least when he discusses it with his kinda-sorta fiancée, Kathleen (Samantha Morton), who runs the count's kitchen. Taking a break from her dancing, Julie consorts with them, demanding John grant her another dance. It's quite easy to see that she rather fancies him, full well knowing of his involvement with Kathleen. Ordering the cook to administer a concoction to her potentially pregnant Pug that will abort the mongrel fetuses inside the poor animal, human conversation turns to appropriate behaviors, and the flirtation of Julie and John causes Kathleen to retire to her room. But Julie and John go a little too far in their continued commiseration.
Transplanting the Swedish text to 19th century Ireland initially seems a unique perspective on the familiar material, and the casting of Farrell and Morton is especially provocative. Chastain rails mightily as the haughty count's daughter, but her spunky outcries are no match for Anita Bjork's. While Sjoberg treated the cook as a visual bit of comic relief, Ullmann allows Morton's Kathleen to be quite moving and sympathetically rendered. This energy often allows the film to reach some emotional depth, something that seems to elude the rather dry pans back and forth between Farrell and Chastain as they waft through large chunks of monologue.
Sjostrom's version famously uses ingenious flashback sequences that predate even the artifice of Orson Welles. Both Julie and John (or Jean, in the original) are haunted by their pasts, bonding over shared memories that Sjoberg drifted into, or inserted into the background in real time to the monologue. In essence, Ullmann's version feels more akin to a filmed play, which hampers the material's intentions.
An exercise in Darwinism, Strindberg's original text highlighted the death of a class system due to that system's rigidity. Julie is forced to kill herself for a sexual transgression in order to avoid the shame, while her lower class counterpart, schooled in the ways of the elitist intellectuals, has the tools to drift into and around these restrictions. He's adaptable.
The famous passage alluding to their highly metaphorical dreams (his is to climb a tree and rob a nest of its golden eggs and hers is that of a fall to Earth) are included here, but Morton's stinging line "class is class," blocks out whatever else the text is trying to do. Valiantly acted but inescapably stuffy, Ullmann's Miss Julie falls into the trap of many a costume drama, all bound up in its intention.
Reviewed on September 7th at the 2014 Toronto International Film Festival – Special Presentations Programme. 129 Minutes
★★½/☆☆☆☆☆