Typist in Love: Roinsard's Vivid Homage to 50's Romance is Bearably Predictable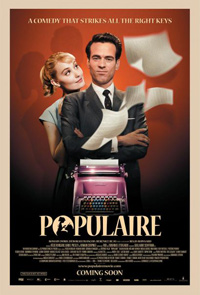 Infusing the unexplored world of competitive typewriting with classic romanticism, Regis Roinsard debut feature, Populaire, is a colorful and vivid homage to American comedies of the 50's with a distinct French flair. Although there is certainly no room for surprises in the story of this ambitious comedy, the stylistic choices and charm of its protagonists allow it to be engaging enough to turn a few smiles throughout the ordeal.
Striving to become a modern, magazine-cover-ready girl, Rose (Deborah Francois) decides to leave her small-town-life helping run her father's store to pursue a much coveted position in Normandy. To be a secretary during a time in which women's activities were still restricted to homemaking and childbearing was an outstanding step upwards in the social scale. Rose knows this, and she decides to interview to work with Louis Echard (Romain Duris), and an ex soldier turned insurance salesman who is known to be a womanizer. Unimpressed by her typewriting skills, Rose types with only two fingers, he is eager to dismiss her, but in desperate attempt to keep the job she types her life away proving she has something to offer. At this juncture, anyone who has ever seen a movie on the romantic vein knows the pair will end up together, there is really no way around it, what Roinsard then proposes is that the young secretary is offered a deal: be allowed to keep her job if she wins the region's speed-typing contest, she agrees but loses irremediably.
Not satisfied with it, and now encouraged by his competitive American buddy Bob (Shaun Benson) he decides to take her in as a protégé and train her. Color-coded fingernails, extensive transcribing of entire novels, morning runs and lots of flirtatious tension make for some warmhearted training sessions. It is evident Echard is falling for her, but he also has feelings for his best friend's wife Marie, played by Berenice Bejo, who is great in the small role. Win after win, the duos' relationship resembles that of an athlete and their trainer. Soon after Rose wins the national championship, there is a falling-out of sorts, and she is left to conquer the world and be "populaire" without him. Francois is a fresh breath of sweet rebelliousness, which complements the tough-guy, very 50's masculinity of Duris character. The protagonist played their parts with a clear understanding of the era they are invoking never implementing modern cynicism into the luscious visual palette and decadent soundtrack.
Roinsard's Populaire is simple in design but takes advantage of its bubblegum-like atmosphere that irradiates sugarcoated notions of love. If it wasn't for the added component of the speed-typing contest that gives it a peculiar identity, this would remain a love story inspired by iconic films of the past and of a certain epoque. Nonetheless, the film never pretends to be anything more than a quirky, overly stylized, simple-minded delight and taken as that it success and can be appreciated as a success. If such focus and taste for cinematically attractive visuals is used in a more unique setting, Roinsard will likely garner more cross-over appeal.