Cage Against the Machine: Cabezas' English Debut Labors Through Borrowed Themes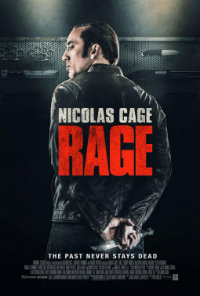 Playing like the cheap echo of David Cronenberg's A History of Violence, director Paco Cabezas flaunts his English language debut on the haunches of the increasingly erratic reputation of Nicolas Cage. Another brick in the growing pile of fecal matter from the unwavering Cage saga, Cabezas retools basic genre themes (you'll probably be reminded of Taken at some point in the mix) for a film that plays like it could just as well be the third part of a trilogy including Cage's turns in strikingly similar B fare like Roger Donaldson's Seeking Justice or Simon West's Stolen. To his credit, Cabezas' Rage is no worse than the offerings of these more accomplished directors, but that doesn't make the experience of it any more worth your while. Painstakingly generic, one only wishes it would at least reach the heights of emotion its succinct title promises, yet every turn, and even a forlornly tacky plot twist, play out like some inevitable, flaccid Ferris Wheel of schlock, spurred onward by insistently violent grotesqueries along the way.
Paul Maguire (Nicolas Cage) has cleaned up his act, now a business professional who once reigned as a key figure in some sort of criminal syndicate. Luckily, his old boss (Peter Stormare) let him take leave. Now, rearing his teenage daughter (Aubrey Peeples) with the help of his second wife (Rachel Nichols), Paul's life is at an even keel. Until, one night, his daughter is kidnapped from their home where she had been hanging out alone with two boys her own age. According to the young men, it was a home invasion. As Paul scours the city with his old contact to find out who could have taken her and why, her body his discovered. Convinced that her murder was related to his nefarious past, Paul assumes the crime was committed by Russian mobsters with a score to settle. Rampaging through a host of violent crimes to make them pay, Paul is in for a nasty surprise.
At the very least, Cage fans can generally look forward to his over-the-top ventures into emotional hysteria and Rage at least delivers several shouty sequences from the perennial over performer. He sobs and screams and grimaces with his custom receded hairpiece flailing for additional effect, but all for naught. The trouble is, these predictable instances have been declawed of their camp value by this time in Cage's career, leaving Rage to play out its dismal drudgery with methodical boredom.
Jim Agnew and Sean Keller's script (their first venture was Dario Argento's ill-fated Giallo) is heavy handed out the gate with its historical references to fate trenched tragedies such as Julius Caesar and Romulus and Remus. Events quickly hit a banal stride while we're introduced to Cage's hard edged family man, contending with his teenage daughter entering the dating scene while he struggles through stilted scenes with Rachel Nichols as wife number two. His dark past impedes every scene like a cloying shadow, "I'm not like that anymore," he pleads.
More comedy courting dialogue rears its ahead after the abduction, his band of friends asking how deep and dirty they're going to have to get. "How deep is hell?" Cage snarls. According to Rage, you don't have to scrape very hard to get there. A phantom like Danny Glover pops up to admonish the vigilante justice being served up in his jurisdiction, but he's a nagging nonentity, his men forced into incredulous statements like, "Are you trying to kill everyone in this city?" If there's any semblance of an intriguing idea behind this tale of a man whose insidious past has him so convinced it has come back to haunt him without warning, its lost quickly in its routine and rudimentary denouement.
★/☆☆☆☆☆