Reviews
Dawn of the Planet of the Apes | Review
Monkey Trouble: Reeves Get a Crack at Famed Cinematic Simian Franchise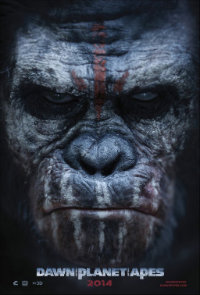 It's kind of wild to think how much cinematic mileage (now eight films and two television series) has been milked from Pierre Boulle's 1963 novel, Planet of the Apes. After 2011's franchise reboot, Rise of the Planet of the Apes became a surprise moneymaker (after also surpassing critical expectations), its inevitable sequel has arrived—Dawn of the Planet of the Apes. That said, Matt Reeves, known for his Let Me In remake and Cloverfield, gets to follow in Rupert Wyatt's footsteps. For better or worse, it's an assuredly solid chapter in the continuing saga with this material, though sadly bereft of the more inventive narrative surprises of the last film. Even as staunchly predictable as its plot is (though, it's worth noting that it means to highlight the calculable nature of humans and primates even under dire circumstances), there are enough impressive elements to power through its basic tendencies, due mostly to the riveting special effects and primate storylines, and yet another aggressively engaging presence from Andy Serkis.
Ten years after the man vs. ape standoff on the Golden Gate Bridge that ended the last film, a genetically modified virus created in San Francisco known as the Simian Flu wipes out nearly the entire human race. Meanwhile, Caesar (Andy Serkis) has grown a small nation of evolved apes in the burgeoning frondescence, now with two sons and a wife of his own. While they haven't seen humans in two winters, the sudden appearance of a small band of homo sapiens led by Malcolm (Jason Clarke) ends with a xenophobic human shooting one of the apes, leading immediately to the rising tension between a horde of humans hoping to gain access to the dam near where the apes live since the dilapidated hovel of San Francisco has finally run out of fuel sources. Caesar, raised by humans, wisely realizes they somehow need to work together but the hatred of Koba (Toby Kebbell), a fellow ape that had been experimented upon by the scientists, threatens to undermine their chances at collaboration on a brave new world. Likewise, many of the surviving humans cling ignorantly to fear and bias toward the intelligent simians.
Once again, the human subplots flail in comparison to the apes, and thankfully returning screenwriters Rick Jaffa and Amanda Silver, along with Mark Bomback, keep most of the attention focused on its primates since none of their humans are given much weight (though it seems that mostly white people carried the genetic mutation that made them immune to the Simian Flu, at least in San Francisco). And here we have the innate difference between the original film and today's progeny of the material. Whereas the original was an allegory concerning societal ills, including racism, there's a rather neutered ambience about the subtext here, watered down to a base message about the dangers of allowing hateful, ignorant members of a group ascend to power.
This time around, casting seems to have been more carefully calibrated, marquee names like James Franco and beautiful yet utterly dull faces like Frieda Pinto are exchanged for Jason Clarke and Keri Russell. For his part, Clarke is a dependable lead here, though it's a rather bland rendering, even as he bickers with supporting player Gary Oldman. Kerri Russell and Kodi Smit-McPhee register on the wholly unnecessary end of events. Instead, the meat of Dawn is provided by Serkis' Caesar and Toby Kebbell's scar faced Koba, an utterly sympathetic villain.
At a point were humans are threatened with being rounded up in cages, the film asserts itself as entirely empathetic with the primate perspective. Oldman's Dreyfus zanily asserts he will 'save humankind' rather late in the film's extended running time, yet the general consensus seems to be, why bother? The fantastic CGI effects are essential for the captivating ape characters (note that Judy Greer is Cornelia), yet the 3D technology is wholly unnecessary.
One wishes that, for all the painstaking detail that went into its visual artistry, perhaps something more inventive would've transpired in its narrative rather than lifting key elements from the 1973 film, Battle for the Planet of the Apes. But, at least it's on the elevated end of summer studio fare and perhaps will provide a bridge for more interesting ape-isodes to come.
★★★/☆☆☆☆☆