We Bought a Zoo: Marshall's Early Eighties Oddity Resurrected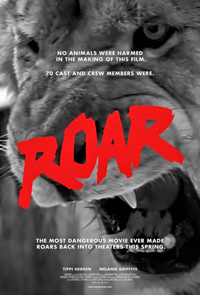 In the annals of cinema, there are very few examples of entire film productions resulting in an end product that begs the question, "What were they thinking?" from the first to last reel. One such example, however, is Noel Marshall's 1981 film Roar, featuring a plagued filming schedule from conception to theatrical release that tends to overshadow the actual product, which concerns a family being terrorized by a ferocious assortment of big, wild felines. If you don't recognize Marshall's name (this stands as his only directorial effort), it's because he was actually the husband (initially agent) of actress Tippi Hedren, and they conceived the idea of the film eleven years prior while working on another film set in Africa. Fascinating in the sense of what the film crew was able to actually accomplish, but never justifying the actual means for its existence, it's simply one of those films that has to be seen to be believed.
Hank (Noel Marshall), a zoologist in Africa, has been trying to protect the native wildcats from poachers and gamers. He's turned his homestead into a safe zone for the creatures, which have basically taken over. However, he's been away from his family for a while, and they're on their way to see him, including wife Madelaine (Hedren), daughter Melanie (Melanie Griffith) and sons John and Jerry (actual children John and Jerry Marshall). Needless to say, they're a bit unnerved at the state of things once they arrive at Hank's residence.
Clearly a passion project for Hedren and Marshall (who divorced a year after this hit theaters), everything about the film is upstaged by the cats, who sometimes become shockingly aggressive or disarmingly affectionate. But the actors portraying the ignorant poachers and Noel Marshall himself never seem to very comfortable on film. Marshall in particular proves to be a rather odd presence, but he often can't even get his lines out before being engaged in some kind of physical scuffle with the animals. Running around with a noticeably bloody hand, his Hank the zoologist looks a lot like a crazed Kris Kristofferson mixed with the fella in Werner Herzog's Grizzly Man documentary. Tippi Hedren and Melanie Griffith are both interesting to see together, but neither has much to do but run away from the cats, and then some elephants. Both actresses sustained threatening injuries, but none compared to those of Marshall and cinematographer Jan De Bont, making his Hollywood debut here, famously mauled and scalped.
In retrospect, it's not hard to believe that the film bombed at the box office. With filming set back by floods, fires, and with seventy something crew members injured during production, costs all told tallied seventeen million, which were not recouped at the box office. The critical and box office success of 1966's Born Free may have contributed to the origination of the project, but marketing Roar seemed problematic—it's not really a thriller (some had compared it to Born Free mixed with The Birds thanks to Hedren's presence) or even an emotionally gratifying venture (though it does have a well-intentioned message). Basically, we're watching a family run up and down stairs as they try to elude an endless parade of wild cats, two of them portrayed by known actors, and during its middle section, those knowing the film's troubled history may be simply looking to catch the film's bits of actual carnage.
★★½/☆☆☆☆☆