Hillbilly Elegy [Video Review]
The Oh in Ohio: Howard Tries on Tragedy in Elementary Adaptation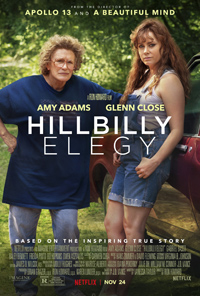 The trouble with critiquing a personal memoir invites the danger of dismissing someone's trauma, relegating their pain as pabulum, and/or diminishing their experience. But then, sometimes, the filtering of this trauma through the lens of a dramatization, from a filmmaker who is arguably too divorced from the reality of their subjects, canA result in an artificiality which reduces these experiences to hokum. Such is the case with Ron Howard's latest, an adaptation of J.D. Vance's bestselling memoir Hillbilly Elegy, a 2016 publication which shared his family's dysfunction born from the combination of poverty and the opioid crisis across a particular period in the Appalachian community and their subsequent alienation in Ohio.
Vance's original novel sparked controversy for generalizations of the actual communities he was shaped by, but Howard's glossy awards-baiting version, adapted by Vanessa Taylor (Divergent, 2014; The Shape of Water, 2017) barely musters any semblance of poignancy or emotional sincerity. Despite some committed performances from a high-profile cast, it is yet another example of the need for someone, somewhere behind the scenes having an eye or an affinity for the community they're invested in depicting.
Yale law student J.D. Vance (Gabriel Basso) recalls how in 2011, he was drawn back into the loop of his family's dysfunction when his mother Bev (Amy Adams) suffers a heroin overdose, forcing him to return to Ohio when he's in the middle of interviewing for positions at various law firms. There is added pressure to obtain a foothold which would allow him to be near his studious girlfriend Usha (Frieda Pinto). But J.D. joins his older sister Lindsay (Haley Bennett), who has traditionally born the brunt of their mother's issues. As he grapples with finding Bev a rehab facility since she won't be allowed to stay at the hospital, J.D. begins to recall a particular period in 1997 (played by Owen Asztalos in these sequences), when his mother started to backslide into an irreparable pattern of addictive behavior with drugs and various boyfriends. Through the intervention of his loving grandmother Mamaw (Glenn Close), who had moved the family from Kentucky to Ohio years prior, he was forced to abandon a group of toxic peers and focus on school and the future. His memories of this earlier period seem to goad him into the necessary action he needs to take to both deal with his family and successfully balance his future opportunities.

Look no further than the film's marketing strategy to see where our eyes and our attention are supposed to stray. A frumpy Amy Adams as the disconsolate, wayward mother Bev, is introduced as a fading good-time gal reduced to heroin addiction. Her journey and her experiences are merely fodder to pump the pedal of dysfunction, and try as she might, Adams isn't allowed to convey any interiority whatsoever. Sequences where her behavior runs off the rails, such as baseball card stealing sequence and a violent rampage on the road tell us all about the incidents which formed the scars of trauma on a teenage J.D., but we really don't convey a sense of her trajectory. Her relationship with her eldest daughter, played with melancholy urgency by Haley Bennett, seems more complex and in need of fleshing out—J.D. was the one who had the opportunity to escape thanks to his grandmother's de facto intervention.
And while Adams feels neglected, here comes Glenn Close roaring to life like a lioness as menthol chain-smoker Mamaw. It's a credit to Close's abilities as she overcomes the sometimes painfully schmaltzy exchanges of dialogue to wring a sense of poignancy and humanity as a broken down matriarch, who perhaps sees her ability to protect J.D. as the salvation she wasn't able to attain through raising her own daughter.
The bones of the requisite humanity are intact in Hillbilly Elegy, but we're only ever told about the staunch commitment to community amongst 'the hill people' of the Appalachia's, and Howard isn't keen on delving into any sort of complexity as regards the opioid crisis or poverty stricken reality which defines experiences within the community (if Vance's original text courted criticism for generalization, Howard's depiction feels perilously removed). J.D. is an absolute anomaly, but his courting of law school admissions, exacerbated by mom's relapse with heroin in 2011, is never presented with the dread and anxiety it likely exacted upon him. Instead, we're treated to a requisite romance between Gabriel Basso, making his transition from child/teen actor to adult star, and another wasted role for Freida Pinto.
It's a film of givens and taken-for-granted tropes, glossing over the treacherousness of life with lines like "he had to just find his own way." And so, Ron Howard reveals the stale tendencies which have graced the melodramas of later period Clint Eastwood, whose Richard Jewell (2019) feels like a kissing cousin to the mercilessly square presentation of Hillbilly Elegy.
★★/☆☆☆☆☆