Contrary Mercenary: Hargrave's Debut Holds Steady with Routinely Staged Action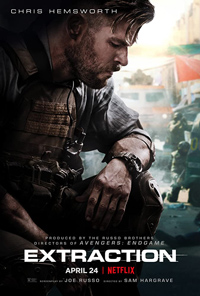 There's a rich, albeit somewhat underappreciated tradition of notable stuntmen who segue into the director's chair, some who have managed to steer iconic classics (Hal Needham, with Smokey and the Bandit, for instance), others who have formatted a serviceable career on bigger B-movies in recent years, like Ric Roman Waugh (Felon; Snitch; Angel Has Fallen), or even marched into art-house territory (Nash Edgerton with Spider or the broadly comedic Gringo). None have perhaps matched the franchise success of Chad Stahelski and David Leitch with their John Wick series (the latter migrating into more lavish climes, from the formidable Atomic Blonde to braindead studio dreck like Hobbs & Shaw).
Somewhere in the middle would be Sam Hargrave's directorial debut Extraction, based on a graphic novel and penned by Joe Russo, one half of the Russo brothers, responsible for the last several Avengers films, which Hargrave worked on and which also featured Chris Hemsworth. The reunion of this trifecta in alternating roles beats with the blood of 1980s style influences, where espionage and foreign climes called for hulky heroes like an Arnold Schwarzenegger (who purportedly was once attached to this project) and Sylvester Stallone to decimate native populations. However, beyond some credible ambience, it's a mostly characterless affair, led by a likeable but somnolent Hemsworth in a narrative which paddles about in superficial details and motivations.
Tyler Rake (Hemsworth) is a black-market mercenary wrenched out of an emotional tailspin in rural Australia when he is solicited by Niki Khan (Golshifteh Farahani) to extract the abducted son of an imprisoned international crime lord, Ovi Mahjanah Sr. (Pankaj Tripathi of Anurag Kashyap's Gangs of Wasseypur, 2012). Ovi Jr. (Rudhraksh Jaiswal) bonds with the steely Rake, but the rescue mission becomes compromised, leaving the two of them adrift in Bangladesh as Mahjanah's men track them as well as the dueling drug lord who nabbed the child, Amir Asif (Priyanshu Painyuli), described as Dhaka's Pablo Escobar.

Perhaps the strongest element of Extraction, when its jostling handheld perspective stops feeling like a video game, is DP Newton Thomas Sigel (Drive; Bohemian Rhapsody), even if he turns Dhaka into a continuously nauseous green arena. Russo's screenplay lazes about on Hemsworth's motivations for connecting with Ovi (he had a child who died of lymphoma, natch). A more interesting character ends up being Randeep Hooda's (of Deepa Mehta's Beeba Boys) Saju, whose self-sacrifice and clever conniving provide the catalyst for what's actually happening in Extraction's simplistic terms.
The ever-striking Golshifteh Farahani, though underutilized, gets to decimate a helicopter with a missile—so there are some surprising bits of eye candy in the extensive shoot out in the finale, wherein all principals end up in dire straits on a bridge too far. Similar to a number of actions films (the 2006 Bruce Willis/Mos Def movie 16 Blocks comes to mind, the former who also was apparently attached to the project at one point), Extraction isn't destined to be well-remembered, but it suggests a return to sobering simplicities to a formula which excels with less mindless action and more human empathy (although the film doesn't quite earn the Shane ambiguity it seems to be reaching for).
★★½/☆☆☆☆☆