Doctor Strange in the Multiverse of Madness | Review
All About Steve: Raimi Returns with Pandering Franchise Fodder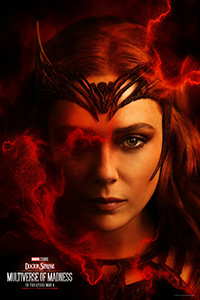 While Marvel may have bombarded us into cultural submission through mainstream audience infatuation and growing critical admiration, the latest addition to their catalogue (their 28th feature, to be exact), Doctor Strange in the Multiverse of Madness, resuscitates a forefather of their alumni in Sam Raimi (who directed the first three Spider-Man films starring Tobey Maguire, from 2002 to 2007). The first feature from Raimi in nearly a decade (his last dalliance with Disney, 2013's Oz the Great and Powerful, didn't do anyone any favors), it's hardly as Lovecraftian a narrative as one might hope from the horror maverick.
Although signature flourishes (including a Bruce Campbell cameo) suggest Raimi more easily navigates CGI heavy inherited material than other practical effects auteurs who came up alongside him (ahem, Tim Burton), he's ultimately as shackled to the overstuffed antics and banal formulas of Marvel properties as any other director before or after him. Since box office profitability now dictates (and normalizes) the incessant output of subpar, repetitive storytelling, this is unfortunately another entry in an endless supply chain, cemented further by the infinite directions allowed by a multiverse blackhole for our content obsessed consumption. There are certainly worse examples than this direct sequel to Scott Derrickson's 2016 Doctor Strange, but it's merely another special effects extravaganza about superhuman forgetting how to administer the human portion of the formula. However, for an overtly zealous fan base, this is likely exactly what the doctor ordered.
Several months after the multiverse overlap of Spider-Man: No Way Home (2021), Doctor Stephen Strange (Benedict Cumberbatch) is thrust into the murky realm of multiverse travel when a young girl named America Chavez (Xochitl Gomez) shows up in his universe chased by a tentacled eyeball. Mourning the loss of his relationship with Dr. Christine Palmer (Rachel McAdams), who has just married someone else, Doctor Strange seems to welcome the distraction. With the aid of his colleague, now the Supreme Sorcerer, Wong (Benedict Wong), they determine whoever is chasing after America (whose skills to travel between universes is unprecedented and unique) is using witchcraft. A quick visit to Wanda Maximoff (Elizabeth Olsen) confirms she's the culprit, desiring to usurp America's powers so she can travel to another universe in which she has the children she'd conjured from scratch (and are no longer available to her) in this one. Protecting America from Wanda's Scarlet Witch proves to be more difficult than Doctor Strange imagined, and as they jettison to other dimensions to see different approximations of Doctor Strange, he begins to wonder, is he really happy in the current reality he's living?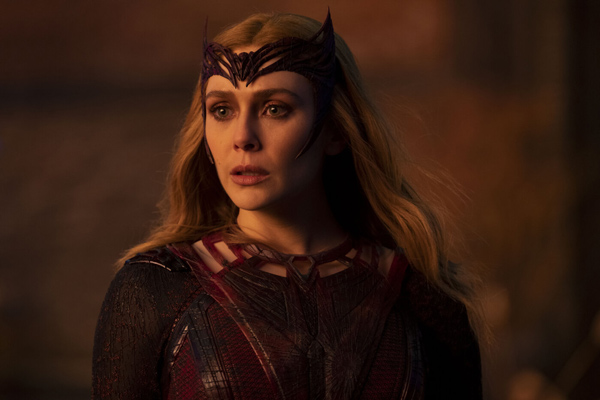 As far as their newly unfolding multiverse goes, Marvel's conception feels like something of a stillbirth when compared to the sublime navigation of Daniels' Everything Everywhere All at Once (2022). Since we're never led to care for anything resembling interiority regarding the superheroes, pondering whether or not they're happy is hardly fervent storytelling. Worse, this cruel universe will never let them go, charged as they are with the Sisyphean feat of entertaining us endlessly through the increasingly intricate web of Marvel's takeover. But the real disservice to this world is the inability of Michael Waldron's ("Loki," 2021 ) script to spackle this goopy, shapeshifting multiverse with any cohesion.
It's no surprise the only resonant characterization in this jaunt through the roundabout is Olsen's Wanda Maximoff. Although a villain, she's at least brandishing some kind of tangible intention (even if it is feeding into hysterical women tropes). Her obsession with possessing America's powers ends up feeling a bit like the Wicked Witch of the West demanding "Surrender Dorothy" in The Wizard of Oz (1939). But Olsen is no Margaret Hamilton and there's nothing as potent as flying monkeys or ruby red slippers for this film to secure an actual foothold in the zeitgeist. All of its superheroes, including the titular Master of the Mystic Arts, are so pompous, pretentious and cocky their exchanges become a see-saw of resistance and defeat up until the finale (and two post credit sequences, as is now the norm).
Rachel McAdams, unfortunately, has nothing to do except represent one of many illogical conveniences in this film's handling of multiverse parameters (even though, ironically, one of her iterations is an expert in this realm), and the ubiquitous dump of self-reflexive omnipotence yields another faction of overruling super beings, this time around we have the Illuminati, led by Chiwetel Ejiofor's Baron Mordo. Newcomer Xochitl Gomez as the 'verse jumper America Chavez is thankfully less grating than many a tween addition to these films, and she's even given lesbian mothers she's trying to be reunited with (which ties into the comic's origins of the character).
Shot by John Mathiesen, no stranger to comic extravaganzas with the celebrated Logan (2019) under his belt, assists in capturing one of the few charms of Strange's realm, the elevated production design (even if the visualization of an incursion looks like Nolan's Inception, 2010). The real star of the film is another of Danny Elfman's customarily idiosyncratic scores, plastered as it is over a whole lot of repetitive standoffs where characters shoot power beams or wield magical shields at one another until someone relents. In short, Doctor Strange in the Multiverse of Madness is merely a serviceable, cookie cutter tent pole more concerned with making bank than stimulating brains. Escapist fare doesn't have to be dull or mind numbing.
★★/☆☆☆☆☆