Bond's 50th Birthday Bonanza His Best Yet?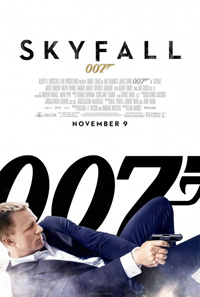 What a celebration. The Bond series turns 50 this year, and Skyfall is nearly the perfect film to send our favorite super spy over the hill. Making bold new strides and classic crowd pleasing callbacks, Sam Mendes commandingly takes the helm with a duo of seasoned 007 screenwriters in Neal Purvis and Robert Wade, and one little known John Logan (Hugo, Rango, The Aviator), crafting one of the finest, if not, the best Bond film to date. Everything is in its proper place – the exotic locals, the beautiful women, the flashy cars, the quotable one liners, the extravagant action set pieces, the wonderfully charismatic villains – but what makes the film so bloody brilliant is how it tips its hat to 007's heritage while acknowledging that much of what made Bond popular in the first place is now an archaic framework that could stand to be burned down and built from the ground up.
As our modern, hardened 007, Daniel Craig is as cold and steely as ever, but this time around he's a bit on a the beaten side. There isn't a frame in the film in which Bond doesn't look well weathered and slightly broken, but that is kind of the point. He is getting up there in age, and he's mentally and physically frazzled. He and the entire MI6 agency have found themselves the target of the most intrusive electronic terrorism to date, the victims of a faceless crime with seemingly no motives and no traceable evidence, and it is here that the film finds its most poignant ideology, but also its only real fault.
Even for gorgeously lensed, ultra glossy, big box mainstream cinema, the majority of Skyfall's thematics run squarely on the nose. We continuously see Bond's physical deterioration and the juxtaposition of his classically suave/blunt tactics with that of the internet generation's technically inclined, but physically inept approach (Ben Whishaw's classy depiction of a modernized, tech savvy Q is the film's most obvious example).
And though Bond inevitably finds himself in the middle of this international mess that runs from Shanghai to the deserted Hashima Island, it is Judi Dench's long running M that plays the pivotal centerpiece. She alone holds the keys to Bond's continued success as an agent, all the while being a symbolic encapsulation of 007 tradition and hard-headed, yet progressive notions of what in-the-field intelligence needs to be, and how the Bond series has to adapt to maintain relevancy in today's amped-up, digitized society. Over twenty films in now and few of them even reach for the thematics that this film thoroughly, though heavy handedly, investigates with outrageous, striking style. Surprisingly, it even manages to fit perfectly into Mendes' inquisitive oeuvre, continuously delving into the idea of growing complacent, unwanted or unneeded.
It helps to have not only Mendes behind the camera, but also his visual partner, master cinematographer Roger Deakins. Taking place in a wide variety of locations, often at different times of day, in a variety of weather conditions, the film always looks ravishing. Inside and outside of lavish Chinese casinos or bearing witness to a massive, real life abandoned island city or in the foggy Scottish countryside, it all is impeccably lensed. The insane, high energy action scenes look absolutely death defying, and each contains plenty of perfectly matched cross-cutting to maintain seamless mid-action continuity. The opening high speed rooftop motorcycle chase is downright heart-poundingly outrageous. Tip-toeing around spoilers, there is even a visual nod to the gorgeous midnight oil field sequence of Jarhead, and it manages to be even more chilling thanks to another bravura performance by Javier Bardem, who takes up the role of Raoul Silva, a hilarious, yet deliriously frightening super villain who seemingly wants to control the world from the tips of his fingers, quite literally. Sadly, saying more would surely spoil major plot points, so we'll leave it at this – Bardem is the main attraction at the heart of this massive menagerie of Hollywood goodness, an evil with grotesque, personal history and lovingly effeminate charm, a perfect match for 007.
When you think of James Bond, you probably don't think of art, but by putting a superb script in the hands of Sam Mendes and company, 007 has been elevated from surefire Blockbuster to something more. Skyfall may not be an existential masterpiece, but it is a near perfect action thriller that features an excellent cast highlighted by a performance that should rank Raoul Silva as one of the best Bond villains of all time, and a modern reframing of the Bond we've come to know and love, making him ever the more relevant once again.