Hell on Earth: Nemes' Impressive, Unsettling Debut Plunges into the Darkness of WWII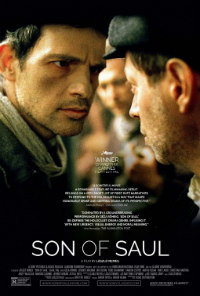 Hungarian director Laszlo Nemes makes an impressive debut with Son of Saul, a fixed perspective account of the last throes of Auschwitz in World War II as seen from the eyes of a Sonderkommando (Jews forced to aid in the assistance of the operations of the gas chambers). Needless to say, this is incredibly challenging material to sit through, a type of examination that does not serve to entertain or explain, but defines a particular experience rarely examined this closely. This particular recollection of the concentration camps is bound to aggravate some, and repel others. But Nemes, who once served as an assistant director for fellow Hungarian auteur Bela Tarr, doesn't seem interested in any sort of placating. Instead, his film is representative of an incomprehensible horror told through the experience of sensory perception. There is not one moment where we are alleviated from its protagonist's journey through hell on earth.
Opening in 1944, Auschwitz, Hungarian Jew Saul Auslander (Geza Rohring) struggles through the routine of guiding his fellow Jews into the confines of the gas chamber. Charged with rifling through their belongings as well as cleaning up the corpses (called 'pieces') afterwards, they find a young boy has survived the gassing. As he is wheezing and barely alive, the Sonderkommandos stand around while a Nazi officer suffocates the boy and orders an autopsy. Saul is intensely interested in the young boy, begging the doctor (Sandor Zsoter of White God) and fellow prisoner to let him have the body rather than cutting the boy up. He desires to give the child a proper burial because he claims the child is his son. Prisoners begrudgingly assist Saul in his attempts to secure a rabbi to perform the necessary rituals. But a planned uprising amongst the men, requiring Saul to make a visit to secure gunpowder from a woman (Juli Jakab) who happens to recognize him, is compromised by his desire to complete his own personal mission.
Nemes defines Sonderkommando for us as the film begins, a particularly gruesome assignment even by the standards of framework we're working with, and it is no surprise that the Nazis didn't keep these particular designees alive for very long. Saul's back is painted with a large red X, as are his fellow prisoners with the same duties. But the camera stays focused almost entirely on Saul, and we're shackled to his perspective.
Imagine holding onto the back of someone's pants or waistcoat as they guide you through a crowd and you get the impression the film paints. Only, at any given moment, Saul has the possibility of being thrown into some kind of hellish wormhole depending on the whim of his officers, flung about into a number of tasks around the camp. We catch glimpses of the hierarchy going on here, including Oberkapos (who oversee the Sonderkommandos) and of course the SS officers that arrive to order an increase in the gas chamber operations. Many times we hear rather than see interactions, and Son of Saul is as much an aural experience as anything. The shrill discord, punctuated by horrific demands, envelopes us at all times, further enhancing the film's discombobulating effect.
Thrown into the pit with Saul, we're not quite sure what is always happening and we have to utilize what little details are divulged, such as a planned uprising amongst the Sonderkommandos that places the action in October, 1944. This technique is reminiscent of something like Aleksei German's last film, How to Be a God, a film almost impossible to comprehend as the immersive viewing experience is absent of general narrative framework. With Son of Saul, we know the basic details allowing us to understand certain elements—this isn't a made up tale about some alien landscape. Nemes and DoP Matyas Erdely filmed on 35mm and utilize the Academy Ratio, which enhances our focus on Saul. As the film opens on a round of victims being fooled into calmly entering the gas chamber, blurred visions of naked bodies followed by galvanizing screams plunges us into this dark oblivion that's even more terrifying due to what we sense but cannot clearly see.
But the viewing experience recalls the work of another Soviet filmmaker, Elem Klimov's devastating Come and See (1985), a WWII tale about a young boy that gets folded into the Soviet Army. Newcomer Geza Rohrig (who sometimes seems to favor Jean-Paul Belmondo) gives an impressive performance as Saul, as we have only his face to guide us through, as the film is absent of exposition with limited dialogue. His painstaking attempts to rightly bury the corpse of what may or may not be his dead son is frustrating to witness. "You've failed the living for the dead," one of the other prisoners snarls. Somehow, this film seems the antithesis of Roberto Benigni's 1998 schmaltz Life is Beautiful, at least in comparing the charade staged for the sake of a young boy in that film compared to Saul's struggle to bury the body of a boy that could be his son. It is representative of a similarly redemptive, human act, and it may seem madness, this futile gesture, yet there's no denying the film's haunting impact.
Reviewed on May 14 at the 2015 Cannes Film Festival – Main Competition. 107 Mins.
★★★½/☆☆☆☆☆