Hot and Bothered: Ahn's Debut a Knowing Character Study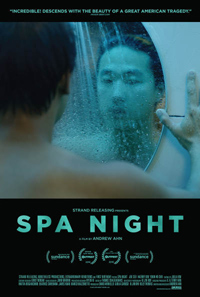 As proof of the multitudinous, untold human stories happening at any given period within the sprawling metropolis of Los Angeles comes Andrew Ahn's directorial debut, Spa Night, which is more-or-less the coming out narrative of a closeted Korean-American youth who is not a boy yet not quite a man. Focusing on a close knit family involved in a detrimental economic crisis which forces them to adapt for an unplanned scenario, Ahn begins with characters facing a future suddenly tenuous. Simultaneously, it's a hopeful narrative of a young man awakened to the tune of his own sexuality via the activities he sees and experiences after taking a position at a local male only Korean Night Spa. Though Ahn's film sounds potentially more salacious than it really is, he examines the intersections of two particular communities with knowing aplomb. Though his protagonist's experiences transpire on a limited canvas, Ahn sidesteps certain familiarities of this genre thanks to subtle details and a quiet but winning lead performance.
David Cho (Joe Seo) lives with his first generation parents (Haerry Kim, Youn Ho Cho) in Koreatown, working as busboy for the restaurant they operate. But when they're suddenly forced to close the family business, David's mother insists he make moves to secure future opportunities by taking his SAT and applying to colleges. Having not had extensive practice with the standardized test, David's parents enroll him in an expensive preparation course, which proves to be more than they can rightly afford. To assist, he takes a job at a nearby Korean Spa and discovers a secretive arena for clandestine gay sex, which scares and excites him.
The circumstances involving the Korean spas as known gay cruising areas in contemporary Los Angeles is nothing new, though Ahn may be the first to directly address a predicament which is seen as a necessary evil by owners and a problem for heterosexual clients (as evidenced in one sequence). Technically, sexual activities at these establishments are illegal, and considering legal bath houses for gay men do exist in several areas throughout Los Angeles this situation speaks to the alluring power of the taboo. Additionally, Ahn's setting provides a unique coming-of-sexual-age scenario for David, awakened to another world existing at his fingertips.
As its own character, Los Angeles' Koreatown is also still a novel locale in cinema. Even as Spa Night opens and David speaks with his parents in Korean over dinner, the conversation is such it would seem to indicate they actually are in a foreign country when, in fact, his parents simply haven't assimilated to the culture outside their comfortable bubble. David's plight is a familiar one, at least to anyone who's watched any queer narratives over the past several decades. But his pressures are amplified by his heritage, where discord over the language his potential mate speaks is of noted importance.
Joe Seo, an actor who has been appearing in bit parts over the past decade, proves to be an exceptional lead, sailing through several emotional stages quiet believably. But some of the film's best exchanges occur between Seo and Haerry Kim as his mother, who is forced to take on the role of breadwinner and emotional support beam following the closure of their restaurant. There's a quiet heartbreak in her words when she observes, walking away from the locked doors, "I bet no one will even notice we're gone." The specter of their restaurant's B grade status is also lodged in the frame, and suddenly we can't escape Ahn's accomplished and beautifully human portrait of a family forced to flounder from one dream deferred to another.
DP Ki Jin Kim only briefly catches glimpses of Koreatown's humming streets, usually only to observe David as he jogs, an eventual metaphor for the bodily changes he seeks to accomplish (which eventually begins to be represent an instrument of purpose). But the interior sequences within the Korean spa are the most visually arresting, reflecting an exotic, aquatic zone, a veritable pleasure dome of surreal possibilities. Partially, this recalls the 'coming together' environment depicted in something like Joseph Losey's final film, Steaming (1985), wherein a group of women face down the closing of an establishment they've identified as a safe zone from patriarchy and other social role playing. If its third act isn't quite as emotionally satisfying as the buildup, this isn't condemnable because Ahn's aim isn't to deliver a concise resolution. Instead, Spa Night realistically captures that period where you begin to realize the world isn't what you think, and the power to define yourself comes from within.
Reviewed on January 24th at the 2016 Sundance Film Festival – US Dramatic Competition programme. 93 Mins.
★★★/☆☆☆☆☆