Tarnished Angels: Haynes Curates a New Dazzling Cult Classic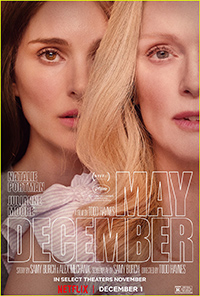 Had Brian De Palma been keen on rehashing Douglas Sirk instead of Hitchcock, he might have made something along the lines of May December, the latest from Todd Haynes, returning to the sexually provocative roots which defined his early works. Reuniting for a fifth time with Julianne Moore, their latest collaboration is heavy on Bergman's Persona (1966) motifs as well in this hothouse of blurred lines set in one strangely steamy Savannah summer in 2015. Much like Woody Allen revisited the Lana Turner-Johnny Stompanato scandal in his 1987 September, this script from Samy Burch and Alex Mechanic deviously revamps the Mary Kay Letourneau furor for a deliriously kitschy identity play between two women who each display a multitude of behavioral and emotional issues. Playfully perverse, Haynes delivers a troubling farce unfolding like a Harold Robbins penned Bertolucci film.
Elizabeth Berry (Natalie Portman) is a notable actor who is about to play a woman named Gracie Atherton-Yoo (Moore) in an independent film production. In the early 1990s, Gracie was a tabloid sensation as a woman who worked in a mom-and-pop pet store and caught having an affair with her thirteen-year-old co-worker, Joe (Charles Melton). When Joe became of legal marrying age, the two of them began a family, having three children, including twins who are on the verge of graduating high-school and leaving home for college. Elizabeth has been invited into their home to interview and study both Gracie and pertinent players still living amongst them, which includes Gracie's eldest son (Cory Michael Smith) from her previous marriage to Tom (D.W. Moffett). But she arrives at somewhat of a vulnerable time, dredging up a sludgy past just when Gracie and Joe are on the verge of an empty nest, which has led Joe to begin questioning his life and whether the choices he'd made were actually his.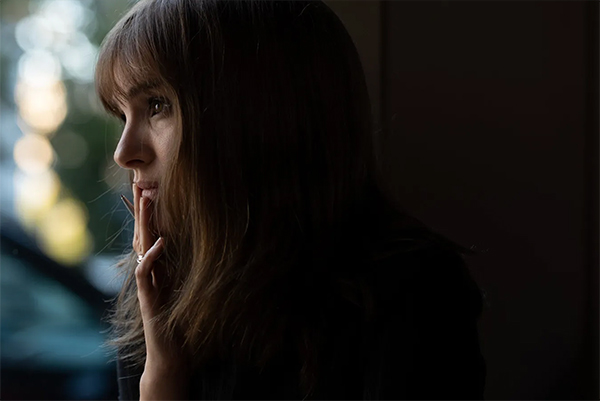 Haynes sets the tone immediately with a bombastic score from Marcelo Zarvos which crashes into the narrative like something Pino Donaggio would have tossed onto a soap opera (the first cue being Gracie's apprehension about their not being enough hot dogs for her little rendezvous). But somewhere along the way, these melodramatic interruptions begin to match the swelling anxiety of the screenplay. The longer Elizabeth sticks around, the more she can see beneath the plastic smiles of the Atherton-Yoo family, while her presence seems to unnerve their tenuous grasp at a barely harmonious existence.
DP Christopher Blauvelt (Kelly Reichardt's usual cinematographer) lends a shimmery essence to the frame, especially as Elizabeth begins to master Gracie's mannerisms. Portman commands center stage as the initially inscrutable Elizabeth, evolving into something of a parasite in her 'research,' while hints at her own arrangements suggest her jump from a cornball television series called Norah's Ark to the provocative lead of an indie film required some sexual finessing with the project's married director. Somehow, she's the one we end up rooting for, even though she's destined to swim in the same polluted pool as the family she's brazenly infiltrating.
As Gracie, Moore plays her most dysfunctional persona yet for Haynes, apparently allowing Elizabeth unlimited access to her world as a means to steer this film version away from the exploitive arena of an earlier made-for-television event about her story (much like Penelope Ann Miller portraying Mary Kay Letourneau). Clips of this TV film are played for hilarity, much like Gracie's obvious lisp, which makes Moore seem like she's dusted off her Barbara Daly Baekeland persona and updated it with a Margaux Hemingway speech pattern.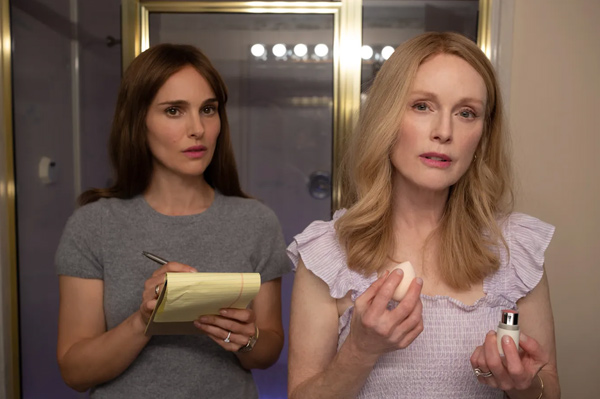 Where Haynes decides to get suddenly serious is through Charles Melton's Joe, a man whose youth was stunted thanks to the illicit relationship with Gracie, which received such a cultural scrutiny it all but cemented his dependence on her. Witnessing his two youngest children graduating transposes feelings about his own thwarted transition to adulthood onto them. Paired with his inability to vocalize his feelings or needs thanks to the manipulatively emotional Gracie ('loyal' is the chosen euphemism), a transgression with Elizabeth seems inevitable, as if fate already decided he would repeat the same mistake on a different plane, as an adult connecting with the mirror image of the woman at the age he met her. Catharsis, however, is not in his future. An interesting plot detail is Joe's hobby of hatching monarch butterfly eggs in cages due to a project he joined online attempting to regenerate the insect's dwindling species. The butterfly's life stages are the template with which to measure Joe, his children now reaching an age of transition when his own was stymied and stolen from him.
Meanwhile, the script dives headlong into the metatextual with a monologue from Portman (about to break out of her Gracie chrysalis) memorizing a letter from Elizabeth to Joe which asserts "I've lost track of where the line is," as it follows her visiting an acting class at daughter Mary's high school. When asked by an immature boy if she'd ever been in sex scenes, Elizabeth goes down a revealing wormhole suggesting sometimes it's not always clear where the line between acting and reality blur ambiguously because sometimes there's no actual way to separate the rationalization of the scenario from the emotional triggers formulated in each of our own specific sexual identities. Is it acting or is it real pleasure? The parameters demand an appropriate response, but human nature is hardly corralled by what's appropriate, and her response to this prompt makes a later interaction with Joe (not to mention her relationship with her director) turn from potentially exonerating to reprehensible.
Layered and deviously entertaining, May December is often quite droll in its deliberation on two women consuming others for their needs. "You have to really watch out for insecure people," Gracie tells Elizabeth. But, then, technically, this applies to everyone, at least to varying degrees. But there's a biting bleakness which leaves us with a haunted, unsettled feeling of how best laid plans are sometimes the invisible traps we build for ourselves.
Reviewed on May 20th at the 2023 Cannes Film Festival – Competition. 113 Mins.
★★★★/☆☆☆☆☆