Back to Basics: Lin Takes Another Franchise Where It Has Bravely Gone Before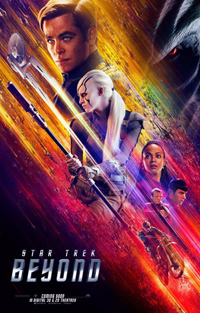 Director Justin Lin (Fast and Furious installments three, four, five, and six) inherits the rebooted Star Trek franchise from J.J. Abrams and manages a surprisingly adept job with the third new franchise installment, Star Trek Beyond. Following the bombast of 2013's Star Trek Into Darkness, this is a dialed down, character driven piece which reasserts the prominence of Captain James T. Kirk, while also feeling more spiritually aligned with the episodic television series, replete with topical messages. Simon Pegg snags screenwriting credit alongside Doug Jung, which would seem to explain the pains taken to instill a noticeable reverence for the material as more than a mere franchise installment. This time around, the valiant crew of the USS Enterprise must combat a new, malevolent enemy who threatens the very bedrock of the Federation, meanwhile discovering success and survival depends on working collectively as a team instead of standing alone.
As Kirk (Chris Pine) contemplates handing over power as he's about to become older than the age his own father lived to be, Spock (Zachary Quinto) is also considering abandoning his post and his relationship with Uhura (Zoe Saldana), believing it is his responsibility to return to his decimated people and assist in repopulating his species with one of his own. Their self-doubts are interrupted when the USS Enterprise is attacked by Krall (Idris Elba), a malevolent alien desperate to get his hands on an artifact which has come into the crew's possession. Krall believes the Federation and the unity it stands for breeds weakness across the universe, and he has taken it upon himself to wreak death and destruction on all in his path to prove his strength. Abducting most of Kirk's crew, the captain and several others manage to escape the destruction of the Enterpris, landing on the desert terrain of Altamid, an unstable desert planet where they manage to find an abandoned Federation ship they can potentially activate with the help of a warrior alien living in it, Jaylah (Sofia Boutella), whose people were also decimated by Krall.
As a television series, Star Trek was always a frontrunner in progression, utilizing its vibrant genre to deliver diverse representations, albeit of alien species but allowing for a variety of actors (i.e., non-white) to expand the narrative of a universe with endless possibilities. A progenitor of on-screen interracial romance, the property may be revitalized by embracing its vintage nostalgia factors this time around, but continues to be a trailblazing studio footnote of the new millennium by confirming Sulu's (Jon Chun) homosexuality in a brief tangent where the character is reunited with his husband and child. In a world where the Ghostbusters reboot had to code its obviously queer character (empowering women apparently leaves little room for eliminating racism and homophobia at the same time), this small, arguably throwaway moment takes on a priceless resonance in an industry dictated by economical viability, which translates into the continual neglect of representation of any kind of 'other' in mainstream cinema.
Likewise, as one of the last major studio pictures to feature the recently deceased Anton Yelchin, his moments as Chekov take on an inadvertent poignancy, usurping the film's diegetic passing of Leonard Nimoy in a subplot involving (at least one of the reasons for) Spock's mournful attitude. Chris Pine takes center stage this time around, suffering from a sort of identity crisis as he contemplates stepping down, granted some brief wisdom from Commodore Paris (the always exquisite Shohreh Aghdashloo) before grappling with this latest menace. But as well-meaning as the film's overarching message tends to be, Star Trek Beyond suffers from a bit of the same concurrence afflicting the dramatic tension of several other properties, namely its featuring of a vicious bully with a chip on his shoulder (Idris Elba, who squeezes out a few meaningful moments in the death throes of the finale) hypothetically raping and pillaging other cultures and their life forces (a la Independence Day: Resurgence) in order to thrive.
DP Stephen F. Windon, no stranger to high-octane action sequences utilizing top tier special effects (as seen in his past collaborations with Lin), does a fine job with multiple action sequences, including in a third act nearly completely comprised of blow-ups and show-downs. But Star Trek Beyond works best when focused on its characterizations, like the playful repartee shared by Quinto and Urban, who gets to stand out a little more in this chapter (while Saldana's Uhura tends to stand out a little less). The addition of Sofia Boutella as the stripe faced alien Jaylah brings a welcome new energy, reminiscent of a zebra spliced with Die Antwoord's Yo-Landi Visser (her predilection for 'classic' music, such as Public Enemy's "Fight the Power" seems to be a detail audiences have come to embrace following James Gunn's Guardians of the Galaxy). Unfortunately, why Pegg's Monty Scott insistently refers to her as 'lassie' is questionable, since it begins to seem a bit patronizing. And even though all its resolutions are routinely and systematically resolved by the final frames, Star Trek Beyond is solidly entertaining fare.
★★★/☆☆☆☆☆