A Place on Earth: Silver's Period Commune Channels Cinema-Verite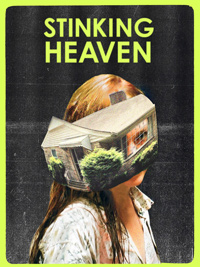 While his 2014 title Uncertain Terms still awaits theatrical release as it makes the rounds of the festival circuit after premiering last year at the Los Angeles Film Festival, the increasingly prolific Nathan Silver unveils his fifth feature. Stinking Heaven represents a change of pace stylistically and dramatically within Silver's preferred parameters examining human beings tossed vicariously into strained living situations, where they often wear each other down to an inevitable breaking point. A period piece set within the confines of a well-meaning commune in early 90s suburban New Jersey, the grainy look and feel of Silver's film lends it a vintage realism that aligns it with the cinema-verite styling of documentary filmmaker Allan King, whose films like Warrendale and A Married Couple focused, unobtrusively, on isolated groups or units of people in similar fashion.
Lucy (Deragh Campbell) and Jim (Keith Poulson) have crafted their home into a safe zone for sober living in 1990 Passaic, New Jersey. Their microcommunity seems to be flourishing, with Kevin (Henri Douvry) marrying the much younger Betty (Eleanore Hendricks) at the film's outset. But upon the arrival of Ann (Hannah Gross), who happens to be Betty's ex-flame, immediate discord is brought upon the house, resulting in Betty leaving and Keith's relapse. Meanwhile, Ann hardly seems interested in participating in group activities (another rule for the inhabitants), such as reenactment of notable low points in their personal lives to be observed by the others and filmed. The negativity these events foster seems to unravel the positive environment Lucy and Jim have fostered.
The specific locale of Passaic, New Jersey lends Stinking Heaven a particular flavor of decline, a place hailed as the birthplace of television mutated into a stagnant suburbia (it was also the setting of Michel Gondry's 2008 Be Kind Rewind). Like many groups of humans governing themselves, certain rules seem self-sabotaging, as Lucy and Keith soon find. Though it would seem a rule of thumb that no drugs should be allowed amongst a safe place for recovering addicts, the couple hasn't thought out logical recourse for lapses, which inadvertently leads to tragedy when Kevin is banished. Other behaviors vacillate between oddly amusing and alarming, such as their filmed reenactments of their lowest, drug addled moments.
Opening with a celebratory wedding, there is hardly a moment of afterglow once Hannah Gross' Betty shows up, ex-lover of Eleanore Hendricks' (from Nancy, Please). Betty is a passive home wrecker, her presence anticipating immediate fissures between the tenuous marriage of Kevin and Ann, as well as some latent tendencies from the troubled Lucy. Slowly, these people are revealed to be viciously unhappy and each one as indefatigably selfish as the other, which leads to a shockingly dark finale. Take, for instance, commiserations concerning the absence of Kevin, whose daughter Courtney is left behind in the home. She discusses how great a father he was because he didn't whore her out when they were using simultaneously. Goodness can only be ascertained as the absence of greater misdeeds than the ones already committed, a type of 'glass is half full' function as defense mechanism. But while the other commune members criticize Lucy and Jim, sympathy for Courtney is still absent. "I'm saying this is in the best way possible. Does she look bulimic?" someone asks, precipitating a final act of self-inflicted abuse.
DoP Adam Ginsberg used an 80s analogue broadcast camera, which lends the film a rather putrid, incredibly dated visual flavor. This enhances the period and documentary feel of Stinking Heaven, even with its cast of familiar indie faces, such as Keith Poulson (Listen Up Philip; Hellaware), and Hannah Gross (Uncertain Terms; I Used to Be Darker), while a melancholy electronic score from Paul Grimstad fades expressively in the wallowing final frames. Stinking Heaven concerns another set of well-meaning people, unhinged by warring personalities and opposing ideologies. Silver's rhetoric seems intact, proving humans have an innate need for socialization, yet so blindly ignore their own sanctions and obligations to the extent that this need is their absolute downfall.
Reviewed on January 26 at the 2015 Rotterdam Film Festival – 70 Mins. Spectrum Premieres
★★★½/☆☆☆☆☆