An Affair to Remember: Corsini's Enjoyable, Brightly Hued Period Piece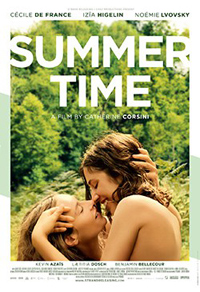 Catherine Corsini returns with her ninth feature film, Summertime (La belle saison), an early 70s period piece recuperating the energy of changing cultural climates through two distinct and naturalistic performances. It is, perhaps, the French director's most personal film to date, which is significant considering an impressive body of work featuring stellar roles for some of cinema's most accomplished modern actresses (including Kristin Scott Thomas and Catherine Frot).
Her latest rides on the considerable chemistry between its two leads, particularly thanks to a vibrant performance from Cecile De France, who manages to be as endearing as she is provocative. As more complex characterizations of queer bodies, attitudes, and sensibilities continue to proliferate world cinema, Corsini manages to avoid drowning her characters in the particular politics of the period, even as they inform the narrative structure. Instead, it's quite simply a love story that doesn't shy away from detailed intimacy or examining with subtlety unique scenarios imposed upon those forced to vocalize their differences or face being crushed beneath the wheels of heterosexual conditioning.
In 1971 rural France, Delphine (Izia Higelin) has been avoiding her parents' wishes to marry the boy next door. Accustomed to assisting in the daily activities of life on a farm, rather than confess to her parents she's homosexual, she instead takes off for Paris and becomes involved with a group of feminists thanks to a chance run-in with Carole (Cecile De France). Through a series of episodes, the women become friends, and eventually lovers, causing complications with Carole's current relationship with a man. When tragedy strikes her father's farm, Delphine is forced to return home. But Carole finds herself unable to stay in Paris away from Delphine.
To some, the connection and developing romance between Delphine and Carole may feel familiar, as we've thankfully entered a more enlightened period where more than a few films depicting romance between two women have reached significance in the zeitgeist. Less controversial than several of these, Corsini's focus on the central characters is so smooth, the situation is never questionable, never tainted by any sort of grandstanding, portrayed by actresses who look like actual people and not fantastical composites spinning around in honey coated escapism. In many way, Corsini's film is a more bluntly realized version of something like Diane Kurys' beautiful 1983 film Entre Nous, also a period piece detailing an intimate friendship between two mothers played by Isabelle Huppert and Miou-Miou.
Newcomer Izia Hegelin (seen last year as a supporting character in Samba) hits all the right notes as an awkward rural youth learning to find her voice and discover how to break away from the conservative values of her farming value. Belgian actress De France is a performer who's now portrayed a variety of queer characters in her filmography, from the controversial High Tension (2003) to L'auberge Espagnole (2002) and its two sequels and 2009's Sister Smile. She's delectable as Carole, a long haired feminist committed to challenging the status quo. Together, these two women achieve believable chemistry, something often absent from films depicting intimate lesbian relationships.
In an energetic flurry, Corsini sets up the romance with some deliberate groundwork in the city, including a rather moving sequence where they rescue a friend who's been placed in an asylum to be cured of homosexuality. But as authentic as these various characters seem (including a jilted admirer of Delphine played by Love at First Fight newcomer Kevin Azais), it is perhaps a late staged interaction between De France and the incredible character actress and director Noemie Lvovsky which remains Summertime's most vigorous exchange.
In the fine tradition of the more realistic tendencies of French cinema, Summertime is a bittersweet, and ultimately melancholy romance, untethered to insistent tropes we see in many English language cousins more concerned with appeasing audiences through falsehoods.
Reviewed on September 13th at the 2015 Toronto International Film Festival – Special Presentations Program. 105 Mins.
★★★/☆☆☆☆☆