Fruit of the Land: Urushadze's Straightforward Anti-War Sentiment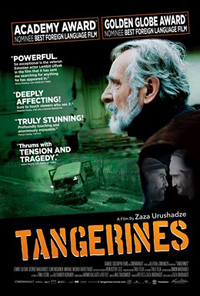 The horrors of war are quietly examined in Tangerines, a period situational drama from Georgian director Zaza Urushadze that's simplistic in execution and hailing from an obscure enough locale to disguise a bit of the familiarity of its important message. Initially premiering in 2013 at the Warsaw Film Festival, the title is a success story of the festival circuit, as a year later it scored both Golden Globe and Academy Award nominations for Best Foreign Language Film, and it's the first Estonian film to hold such a distinction.
In 1992 Abkhazia, following the dissolution of the Soviet Union, the Estonian populous was driven out of the region and forced to return to their native region. But Ivo (Lembit Ulfsak) stayed behind alone, helping his neighbor Margus (Elmo Nuganen) valiantly struggle to harvest his crop of tangerines. Two Chechen soldiers pay a surprise visit to Ivo, moments later struck down in a gun battle with some Russians outside of Margus' estate. Ahmed (Giorgi Nakashidze) is gravely wounded, and Ivo takes him into his home while burying his comrade and doing his best to cover up their vehicle. As the men shove the truck over a cliff, Margus is surprised it doesn't explode like in the movies—Ivo responds "Cinema is a big fraud." Soon after, more explosions kill several Georgians, and Ivo takes in the very badly wounded Nika (Mikhail Meskhi). Ahmed vows to kills Nika as soon as they're both recovered, leading Ivo to make Ahmed promise that there will be no violence under his roof. As the men recover, their sworn hatred is tempered by the realization that they're both humans deserving of the right to live.
Ironically, Tangerines serves as an interesting companion piece to George Ovashvili's 2014 Corn Island, the Georgian title that took the top prize at Karlovy Vary and was an Oscar entry that actually made the shortlist prior to the last round of cuts before the final five nominations were announced (that film, also set in 1992 during the same war, is centered on an old man and his granddaughter harvesting corn on a temporary island that forms during a particular season in the water bordering Georgia and the republic of Abkhazia). Both films reflect a similar painstaking reflection of the similarities that unite humans ignored in favor of the manufactured distinctions placed on ourselves as defined by tradition, land, and property.
Urushadze's film hits all the effective notes that make his film feel internationally accessible, and thus, comparisons with other similar features are far reaching, particularly Eran Riklis' incredibly poignant 2009 film Lemon Tree, in which an Israeli and Palestinian woman are united via a similar citrus metaphor. Though its glaringly obvious where Urushadze is going as soon as the opposing forces are lying indisposed under one roof, it's also a powerful reminder of how the human possibility to connect if only given the opportunity. But this predictable, slightly hurried resolution recalls Ivo's earlier observation of cinema as a sometimes fraudulent presentation of wishful thinking.
★★★/☆☆☆☆☆