Solid Ground: Crialese's Heartfelt Message Movie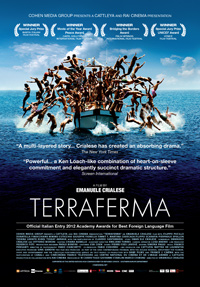 In his fourth feature film, Emanuele Crialese tackles issues of immigration and the inhumanity that transpires from man-made laws in Terraferma, a film that just as scrappily begs one to look past the heavy-handed message to be moved at the plight of the individuals it depicts. And, for those sentimentally inclined, those moments may be quite easy to forgive, even if they're increasingly hard to ignore in its final lead up to the grand finale. Fortunately, there's a poetic rhythm to the arresting visual compositions that couch on magical realism, and its bittersweet melancholic tone, no matter how bluntly delivered, is still an effectively realized portrait of tenuous humanity.
On Linosa, a small island off the coast of Italy, Filippo (Filippo Pucillo) is the third generation of a family of fishermen, and the industry has slowly dwindled into nothing, leaving his remaining family beleaguered. His father disappeared three years ago at sea, so Filippo's grandfather, Ernesto (Mimmo Cuticchio) has charged himself with maintaining the family business, while Filippo's Uncle Nino (Beppe Fiorello) has migrated into the only lucrative way of life on the island, serving tourists. Recently, Filippo's mother Giuletta has decided to rent out her home for the summer to tourists, warning that the only way the family will survive will be to sell the boat and move to the mainland, much to the chagrin of Ernesto and Filippo.
Just as Filippo snags a group of young twentysomethings to rent their home, Ernesto spies a horde of illegal African immigrants amassed on a small raft, and a handful of them fling themselves into the water and swim towards him. While the law dictates that the local fishermen are not allowed to help illegals, Ernesto operates by the 'rules of the sea,' and cannot forgo helping those in peril. Taking them on board, one of the immigrants is a very pregnant woman named Sara (Timnit T.), also with a young son in tow. Pitying her, Ernesto takes her to Giuletta's home where Sara quickly goes into labor. Stuck with hiding Sara and her two children, the authorities begin breathing down the family's neck, forcing them to decide whether they need to help this woman in need or obey the law.
At first akin in tone to numerous other films depicting the struggle to maintain a certain way of life on isolated Italian islands, like Pontecorvo and Malenotti's The Wide Blue Road (1957) or, hell, even Rossellini's grating Stromboli (1950), Crialese eagerly jolts Terraferma into a heavy-handed tale of the woes of immigration that recalls Kaurismaki's Le Havre (2001) and plays like the Dardennes on hyperdrive.
Whatever your response to the tale unfolding, Fabio Cianchetti's (who has worked for Benigni, Bertolucci, and Abel Ferrara) ravishing cinematography is certainly an asset, the engulfing ocean a prominent character of its own. We're meant to align a raft full of illegal aliens, shot at a distance and dashing themselves desperately into the ocean with a carousing boat load of tourists, cascading elegantly into the waters for a superfluous diving competition, and the framing plays a part in our understanding—we're numb to the familiarity of summer fun, but distant and guarded in our understanding of outsiders. This distance, of course, makes it easier to neglect helping them. Even if certain events and passages of dialogue are bit heavy-handed (Filippo's grandpa has to utter some leaden line about finding terrafirma), Crialese isn't without subtlety, and he orchestrates a handful of memorable scenes beyond cheap melodrama.
Performances are uniform throughout, though lead Filippo Pucillo seems a bit abrasive at moments, particularly during the first half of the film. Donatella Finocchiaro and newcomer Timnit T., while at first saddled with sharing a rather clunky conflict, manage to create some of Terraferma's more emotionally resonant sequences.