Reviews
The Machine Which Makes Everything Disappear | Review
Gurchiani's Lens Acts As A Georgian Confessional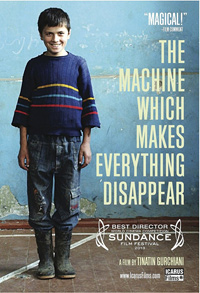 With a solid background in psychology and a foundation in direction via the University of Film and Television Konrad Wolf in Potsdam-Babelsberg, Germany, the Georgian born director Tinatin Gurchiani's boldly original debut docu embodies a stark depiction of everyday hardship through concise successive portraits of Georgian youth. After putting out an ad seeking young people interested in appearing in a film, Gurchiani performed a series of interview auditions with each respondent. Piercing in it's austerity and mesmerizingly simplistic execution, this footage makes up the bulk of her penetrating first feature, The Machine Which Makes Everything Disappear.
Rather than following her subjects about their lives or having them sit comfortably under inquisition in standard shoulder cropped close-ups, Gurchiani has chosen to place them largely in thigh-high wide shots standing against vividly colored, yet decaying concrete spaces, clothed but naked none-the-less. Depending on the person, her questions vary greatly – from why they want to be in a film to existential questions about their place in the world and their relationships with their family. A blue collar laborer, a daydreaming child, a fledgling bride, a young woman in search of her estranged mother, and even a weathered old man bashfully turn up in hopes of accruing some screen time. Showing visual nerves and evolving veritability over uncut expanses of contemplative pauses, Gurchiani's subjects answer shakily with hesitant uncertainty, yet she manages to patiently coax them to slowly shed their ambivalence like a seasoned therapist, resulting in raw responses that harbor hopes, dreams, and regrets.
Each brief revelation seems to fit into a larger whole, a single cog in a culturally struggling narrative machine. While none of the stories directly intersect, their collectively shy demeanor and candid deliveries form a cognate mindspace that link sullen times and optimistic outlooks. Interviews often play back to back, cut flatly with little transitional lead in besides the sparse melancholy soundtrack of Mahan Mobashery, forcing coarse contrast, but there are several key exceptions in which Gurchiani ventures out post-interview to document the events mentioned in conversation. In one, with the aural emphasis of a bride-to-be, decked out in her gown just prior to the wedding ceremony, gorgeously singing a cappella, we witness the jubilance and celebration that life in Georgia can offer. In deviation, Gurchiani also finds a wistful young woman who speaks of her mother long abandoning her, and shortly thereafter, the camera follows her to their cacophonous reunion to agonizing effect.
Shot by the seasoned docu cinematographer Andreas Bergmann with a Red One, the direct, immobile staging presents ultra crisp images that force focus upon the uncomfortable people laid bare before of the lens. While Gurchiani herself takes refuge behind the camera, her rigid yet sympathizing voice remains the propelling constituent that teases out long winded divulgences and adheres them to an over-arching cultural silhouette. As a slowly ciphered testimony of Georgian life, The Machine Which Makes Everything Disappear is a rustic tone poem in which you feel the ticking seconds pass with memorable distinction. While this will prompt some to continuously check their watches, others will be overtaken with Gurchiani's simple, but profound affirmation of her mother country's oscillating propensity.
Reviewed on January 26th at the 2012 Sundance Film Festival – WORLD DOCUMENTARY COMPETITION Programme.
101 Mins