She Ain't Afraid 'a No Ghosts: Rebecca Hall's Deadening Vehicle a Snoozer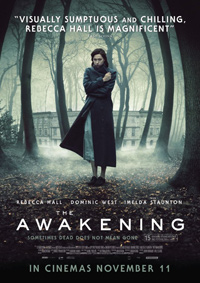 UK director Nick Murphy, previously known for his dabbling in television, snags Rebecca Hall for his film debut, The Awakening, a gothic ghost story set between the two World Wars. Unfortunately, the film's tagline, "Sometimes dead does not mean gone," potentially refers to its overall delivery, and sometimes a theatrical release does not equate to noteworthy.
Hoax exposer and ghost debunker Florence Cathcart (Rebecca Hall) wiles her days away crusading against tricking con artists claiming to speak to the dead. She recently lost her fiancé in the trenches of World War I, and some of her motivation stems from proving to herself that she will never be able to correspond with her lost love from the other side. On one gloomy day, she's visited by a handsome stranger (Dominic West), who has read her national bestseller, "Seeing Through Ghosts," a study, we're told several times, that is held in high esteem by the local populus, set on many a bookshelf next to the bible. The stranger, one Robert Mallory, has been sent to inform her of an invitation from the headmaster of a boarding school in Cumbria, where a ghost has been terrorizing the all male student body. Recently, a young pupil has mysteriously died there. Once there, she meets Maud (Imelda Staunton), the governess, and another young, lonely boy, Thomas (Isaac Hempstead Wright). While Florence is able to determine that a certain amount of tomfoolery has been going on amongst the students, it's soon obvious that something more sinister has been lurking in the echoing hallways of the estate-turned school. And with each staff member seemingly hiding a significant secret of their own, Florence is not sure what her proto-feminist intuition is trying to tell her.
Sadly, The Awakening is a criminally derivative and besotted example of the ghost thriller genre. But with no frills or thrills, we have only the most asinine and implausible twists to carry us through a ponderous climax and forgettable finale. While Murphy and DP Eduard Grau (Buried; A Single Man) manage to make the gothic boarding school and the dank, English landscape look deliciously creepy, there's not one genuine moment of foreboding it's able to muster.
Much like this year's The Woman In Black, which happened to sport an equally fitting bleakness, (though that mediocre trifle was even better written than this crippled conundrum), the film's got a great location for an eerie tale to unfold, but can only manage to burp and belch through it's own running time, not helped in the least by another misinformed performance from Ms. Hall. While we are treated to extreme close-up shots of her long, equine face from nearly every angle imaginable, there's nothing anyone can do to make her appear at home in her performance and less mechanical. There's plenty a scene where she gangles herself staunchly across a room as if she'd just been recently allowed to use her limbs to move about, enacting a robotic adolescent caricature when she's supposed to be (unrealistically) an independent female/ghost debunking author, who wears pants without anyone batting an eye in 1921 England. But it's the grossly insipid twist which not only insults your intelligence but those of its feeble characters (not to mention a sorely misplaced sex scene between Hall and West). What Imelda Staunton's doing here is beyond anyone's comprehension, and with its unfortunate title, one wonders how this hooked anyone into thinking this was an intelligent thriller after having read the screenplay. This whored out narrative won't be waking up anyone before it go-goes.