Reviews
2012 LAFF: The Banishment | Review
Retrieved from Exile: Zvyagintsev's Dismissed Sophomore Effort a Neglected Masterpiece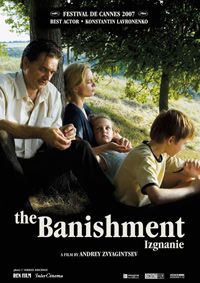 Newly minted Russian auteur Andrei Zvyagintsev's second feature, 2007's maligned The Banishment, has been resurrected for the 2012 Los Angeles Film Festival's "Films that Got Away" program, and it also happens to be one of the most astonishing entries to play in the entire fest. Famously premiering at Cannes to mixed response (though it snagged Best Actor), it's dismissal was remarkable, especially considering this was his follow-up to his much hailed 2003 debut, The Return. It only played at a handful of other festivals of note but never was released theatrically in the US. Now, after redeeming himself in the global critical arena with his latest offering, Elena, perhaps we have the opportunity to revisit his dismissed second outing, a neglected effort that, as the tests of time will prove, should amass the critical jubilation it deserves as a masterful, meditative piece of art.
Opening with a sequence involving a wounded man driving from an industrial cityscape to a winding road in a remote countryside, we learn that Mark (Aleksandr Balulev) has been shot, and has fled to visit his brother Alex (Konstantin Lavronenko), currently hanging out in their father's deceased home. After Alex digs the bullet out of Mark's arm, we get the sense that the two brothers are regularly involved in some sort of nefarious business in the city, and Mark convinces Alex to send for his wife, Vera (Maria Bonnevie) and their two children to share time in the countryside. Maybe they can get back to the basics and live there. However, once Vera and the children arrive, it's obvious that she is under a considerable emotional strain, until, finally, she reveals a catastrophic secret that sets off a terrible chain of events.
The Banishment stands as one of several notable victims of quick, dismissive critique in the highly publicized blitz of Cannes. Certainly any critic that claims to be a connoisseur of titles belonging to Tarkovsky or Bela Tarr should find a more than welcome companion piece in this title. Mysterious, confounding, and unnerving are all words to describe most of the film's running time, which gives way to what seems to be an incredibly transparent finale, a reenactment that seems to fritter away all our inconclusive predictions we've painstakingly formulized up to that point. Or does it? Zvyagintsev fills his narrative with enough religious and mythological references (a beautiful and obvious shot of children putting together a puzzle depicting a telling religious scene, for instance) that requires at least a second viewing.
Based on an obscure William Saroyan title, The Laughing Matter, it's easy to dismiss this work as lofty or pretentious, or a sycophantic homage to greater cinematic masters. Sure, there's obvious points of comparison, as Zvyagintsev's frequent use of some beautiful tracking shots (including one that follows a stream of water underneath a house), and an enriching, hypnotizing sound design that exudes a foreboding menace. But the film is hardly just an homage. The shot compositions are superb, and once again, DP Mikhail Krichman is on hand here, utilizing the countryside for the exteriors, to create shots one can only describe as breathtaking. Just as Bela Tarr is a master of black and white with his films, Zvyagintsev's exterior colors are extremely exquisite. The inside of Alex and Vera's bedroom is turquoise, the speckled blue bed posts spiking through several terrific shot sequences there, an aqua battleground, which only serves to further enhance the naked skin and blonde hair of actress Maria Bonnevie. And in the flashback sequence towards the final, there's a stupendous shot of Bonnevie, throwing up in a bathtub, the room drab, her dress a beautiful blue, and from outside the thick glass window, an amber glowing light melts through.
Most excitingly, Zvyagintsev has managed to remove his narrative from any particular time or place. Nearly all of the film is set in the countryside, but we're granted some shots of the industrial district in the city from which the characters hail. However, the city streets are as desolate as the vast countryside. There are cars and guns, but no clocks or other obvious references to passages of time. Either from the future or the past, there is a subtle science-fiction, or otherworldly element to The Banishment, our only clue as to what country they're even in is the language they speak (the original novel is set in Fresno, CA). This is a tale about communication, and how we are often most isolated from those that are in closest proximity to us, a tale about two people, once in love, who no longer know how to speak to one another. And while Konstantin Lavronenko does give an intriguing performance, it's really the film as whole, all pieced together like a puzzle half assembled, that works majestically. As Alexander's brother tells him when goaded for advice on how to deal with his wife's secret, "If you want to kill, kill. If you want to forgive, forgive." Your approach to transcendent cinema such as this should be along these lines. Yes, The Banishment is a slow film, one that demands patience, consideration, and your time. If you can't meet these demands, the film won't meet yours.
Reviewed on June 24 at the 2012 Los Angeles Film Festival – The Films That Got Away.
150 Min