Bay Day: Levinson Mines Horror Genre to Surprising Effect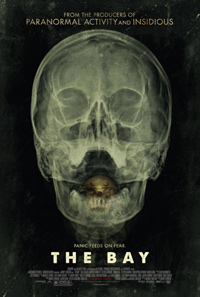 In what may be one of the year's most curious entries in the horror genre, The Bay, master filmmaker Barry Levinson makes a found footage screamer that works to great effect. A rare example of successful eco-horror, this mock documentary, though straightforward, uses a simple narrative structure to chilling effect, which is only more fascinating coming from the director of fare like Rain Man (1988) and Wag the Dog (1997).
A framed narrative, we're told via a present day interview with Donna Thompson (Kether Donohue) about a hushed up 2009 plague-like incident that struck a small Chesapeake Bay town. But now, all the filmed footage of the July 4th event that had been confiscated has been leaked and Thompson, a student reporter who had been on her first televised assignment as an intern, shares her experiences from that day. While Thompson was there to cover the 4th of July street fair and other celebratory events, we learn that a month prior, two scientists had been studying extremely high levels of toxicity in the waters surrounding the bay and their corpses had recently been discovered, mysteriously gouged. Structured by the present day interview, we learn about mutated parasites caused by the extreme amount of hormone fed chicken feces being dumped into the bay. And these parasites, which have grown and multiplied at a rapid pace, have infected the entire water supply, and, on this unfortunate July 4th, all hell breaks loose as the parasites infest the populous, growing inside their bodies and eating them from the inside out. We get multiple visual accounts from that day, cell phone footage and eerie Skype footage of a hospital doctor corresponding with the clueless CDC.
Granted, there's an obvious ecological message written all over The Bay, but Levinson never gets on a soap box here, rather giving us a terrifying account of nature run amuck due to human negligence. Milking the found footage angle for all its worth, this happens to be one of the best and most plausible examples in the rather limited sub genre. Levinson manages to ratchet up a palpable sense of terror and there's plenty of gross out, disgusting body horror moments to please genre buffs. At a brisk running time of 84 minutes, Levinson creates a quick thrill ride that never seems to drag.
Utilizing a cast of mostly unknowns (though Christopher Denham and Kristen Connolly are recognizable up and comers), this is a sickly effective horror film. First time writer Michael Wallach has managed to write a treatment that resists falling into utter ridiculousness and Levinson, who's been directing films since 1978, manages to do something unlike anything we're accustomed to seeing from him. Ecological horror isn't an easy route to go, and for every noteworthy entry (The Last Winter, 2006) there's hackneyed tripe like The Happening (2008) or The Thaw (2009). But for those looking for some old fashioned thrills, look no further—The Bay is a lot of fun.
Reviewed on September 12 at the 2012 Toronto International Film Festival – MIDNIGHT MADNESS Programme.
84 Min