She's a Hustla, Baby: Falcone and McCarthy Sew Themselves a Silly Badge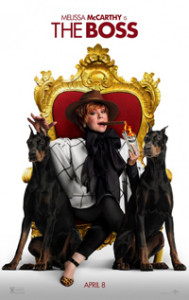 Melissa McCarthy arrives as a perpetually turtle-necked, foul mouthed CEO with abandonment issues in The Boss, once more under the tutelage of actor/husband Ben Falcone, who directed the comedy star in 2014's Tammy (they've also scripted this feature, with the addition of actor Steve Mallory as co-writer). If Rosalind Russell were around to resurrect her Auntie Mame persona for a Martha Stewart biopic baked into a Chicago set remake of Troop Beverly Hills (1989), it might look something like this goofy sketch.
McCarthy, once again playing an exaggerated harridan with a heart o'gold, makes mincemeat out of her co-stars in this semi-ribald comedy dependant upon the assumed anarchism afforded portraits of female misbehavior. This time around she's an ex-felon who violently overhauls her ex-assistant's daughter's girl-scout troop by organizing capitalistic takeover and building an unlikely overnight brownie empire. There are certainly laughs to be had, some born out of inherent shock value involving women and violence, but this treatment barely skirts by on the obvious improvisational skills of its lead until reducing itself into a desperately feckless dash for endearment.
Successfull businesswoman Michelle Darnell (McCarthy) is a self-made guru at the top of her game when she's suddenly sentenced to five months in prison for insider trading, the authorities tipped off by her jealous ex-lover and current rival, Renault (Peter Dinklage). Her business is bankrupted and all her assets seized while behind bars, and following her sentence, Michelle attempts to re-establish herself with the help of her ex-assistant, Claire (Kristen Bell), a single mother who was forced to take a deadening office job following her boss' demise. Unsuccessfully courting her old business contacts, Michelle stumbles on a new idea after tasting Claire's addictive brownies by suggesting they usurp her daughter Rachel's (Ella Anderson) peers and create their own door-to-door sweet-toothed empire. But not everyone seems keen to blindly support the notoriously cutthroat business maven.
Swooping down on reality television styled opening credits of Chicago's skyline (following a chintzy montage explaining Michelle Darnell's foundational character flaws, which seems to directly borrow the storyline used for Sandra Bullock's character in The Heat), McCarthy arrives with an absurd hip-hop dance number (featuring T-Pain), wearing one of many questionable ensembles meant to suggest the persona of a successful executive. The ventures which brought her economic acclaim matter little since The Boss is more interested in having Michelle reclaim her stature while climbing across the backs of her old support system, including the plucky but continually effervescent Kristen Bell (who has decent chemistry playing the straight man to McCarthy's zany screwball).
Child actor Ella Anderson is also surprisingly emotive considering the frivolousness of the scenario, while a white-maned Kathy Bates begs to have been utilized in more than her shortlived sequences as McCarthy's scorned mentor. A number of notable supporting performances compete for clichéd moments, such as Tyler Labine as a love interest, Cecily Strong as a cuckoo employer, Margo Martindale as a kindly nun, and Kristen Schaal playing another overly sensitive weirdo. The film's most grating moments come from Peter Dinklage as McCarthy's jilted ex-lover, a man eager to ruin her new business venture after toppling her last empire.
Banking on sheer strangeness to generate laughs, the wispy narrative of The Boss is about as inconsequential and aimless as its bland title would suggest. Still, this is a more enjoyable venture than Tammy, though considering McCarthy's considerable comedic talents, one wonders why someone can't craft something a bit more substantial for her rather than continue this string of one-trick showboating which most likely won't secure an enduring shelf-life.
★★/☆☆☆☆☆