Reviews
The English Teacher | Review
Notes on the Banal: Zisk's Debut a Toothless Version of Familiar Material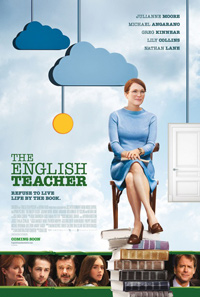 After working exclusively in the realm of television since the 1990s, director Craig Zisk lands a high profile cast for his feature film debut, The English Teacher, which looks on paper like something of a cross between Notes on a Scandal and Hamlet 2. But even though its glossy pedigree hints at potentially subversive elements laced with acerbic comedic flare, Zisk, with a screenplay from Dan and Stacy Chariton, plays with its controversial elements apprehensively, awkwardly unraveling like a neutered version of similarly themed films. While at its core it does happen to sport a watchable lead performance from its star, the film ultimately does her no favors, crushing its own titular protagonist beneath the wheels of a predictable finale.
Linda Sinclair (Julianne Moore) is an uptight 40-something high school English teacher, living out a rather isolated spinsterhood, her thoughts seemingly as obsessed with fantasies inspired by classical literature today as they were in the quick montage we see of Linda from childhood through her college days. Sporting tangerine colored bangs and hiding behind Jeffrey Dahmer spectacles, Linda's life (along with Fiona Shaw's insistent omniscient narration) is unceremoniously interrupted when a former student, Jason (Michael Angarano) comes back into her life. Jason graduated from NYU and had aspirations as a playwright on Broadway. However, his attempts have remained unsuccessful, and monetary issues brought him home to live with his Type A father (Greg Kinnear), a physician insistent on enrolling his son in law school. However, Jason did write a play, which he lets Linda read.
A romantic melodrama in the vein of Linda's passionate fascination, she shows the play to the high school theater director, Carl (Nathan Lane), whose soul died long ago amidst annual productions of Our Town and The Importance of Being Earnest. Of course, the principal and vice principal (Jessica Hecht and Norbert Leo Butz, the film's sole scene stealers) are opposed to the rather adult content of Jason's play, and insist on making it appropriate for a high school audience, which means severe censoring (think high school students trying to stage Edward Albee). Of course, Linda's overzealousness and repressed sexual desires lead to some inappropriate circumstances with Jason, her emotions spinning out of control when he starts flirting with the play's ingénue (Lily Collins).
While both cast and narrative (though familiar) sound promising as far as situational melodrama is concerned, it's almost embarrassing how uninspired everything feels. Sure, Julianne Moore is completely convincing in her earnest awkwardness, but her performance belongs to a higher pedigree than the vehicle it's trapped in. The English Teacher could have been a darkly comedic character study of a woman like Linda Sinclair; instead it's an oddly structured and forgettable exercise in the banal, replete with bookended narration dictated sequences filled with lazy montage and cliché.
The rest of the major cast names are playing familiar ciphers, including the affable Angarano and a surprisingly dull Nathan Lane. As for Kinnear and Collins, who both star in the equally dismal literary inspired Stuck In Love, which is also set for theatrical release, their characters would have been better served as simple descriptions from the narrator. Instead they just take up space and time to say and do the inevitable. There's a playful semblance of an idea at work in The English Teacher, and it's too bad we couldn't get more details on Jason's play, which is described as Kafka meets Spielberg. But Zisk's film seems plagued by the same conservative powers that run the high school and it plays like a perfectly sanitized bore.