Sexual Assault Will No Longer Be Overlooked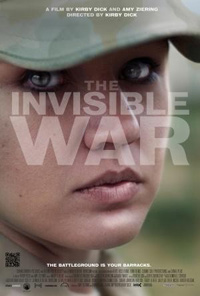 It's horrifying to acknowledge that females in the United States Armed Forces are more likely to be raped by fellow soldiers than killed by enemy fire by an exponential amount, but worse is that an estimated 19,000 military sexual assaults occurred in 2010 alone, with only about 8% of reported cases actually going through the prosecution process. Kirby Dick and Amy Ziering have crafted a heartbreaking, highly important film that exposes this rampant sexual abuse that is widely ignored by the military system with hopes of changing the unjust military judicial structure that is currently in place.
The Invisible War sees a host of tormented rape victims telling their stories with gut-wrenching candor. One woman was beaten so badly while being raped by her commanding officer that the discs in her jaw have completely eroded, leaving her with a permanent soft diet, and a pile of medical bills that have been rejected from veteran health coverage. Another woman now suffers from permanent back pain after having multiple vertebrae jarred while being raped by another soldier. The list goes on. It all boils down to the fact that the system currently in place that allows the commander of an outfit to judge and prosecute instances of sexual abuse with supposed unbiased equality is an unjust system in which rape allegations are treated as jokes, or even worse, are turned against the victim as punishment.
Fluidly piecing each woman's story together with interconnecting plot points, the film progresses with a natural ease as it moves from subject to subject. We start with a long list of incidents, but quickly move on to how they occurred, why they weren't properly investigated, and how, as a whole, the events has changed their lives. While few served in war zone tours, depression and post traumatic stress disorder rates are far above average among sexual assault victims, and that fact is put on display with the mountains of pills they've been prescribed to deal with the lingering ordeal. Family members and lovers supportively standby with open arms for the moment their troubled beloved feels comfortable enough to make contact. Their lives have been permanently and detrimentally affected, but with hope, these strong men and women will be the driving force behind a movement of accountability and judicial alterations.
Dick and Ziering have been crafting wonderful docs for the last three decades, but this is quite possibly their most imperatively urgent work yet. The Invisible War is not just an important film, but one produced at the top of its creators' craft. It's a doc of rich emotion and high stakes that, thanks to its intrepid subjects, has a real chance to make a difference in the lives of future US soldiers.
Reviewed on January 28th at the 2012 Sundance Film Festival – US DOCUMENTARY COMPETITION Programme.
96 Min.